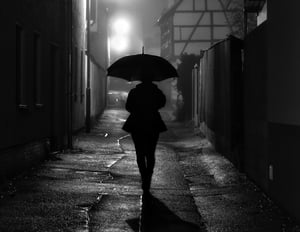 Grab your trench coat and femme fatales; it's Noirvember! For most, November is simply the month that ushers in crisp weather and Thanksgiving. For classic film cinephiles everywhere, November becomes Noirvember, a month-long journey into film noir where fans spend every day of the month watching and sharing a classic film noir on social media.
Several years ago, this event was created to highlight and celebrate the gritty, shadowy world of the 1940s and 1950s film noir. While other movies made well after the 1940s and 1950s that fit the genre, it's those two decades that define the genre as a whole.
If you are unfamiliar with the term film noir, it is a style of filmmaking characterized by such elements as morally ambiguous characters, femme fatales, dark lighting effects, frequent use of flashbacks, intricate plots and techniques borrowed from the German expressionism movement. To celebrate Noirvember, here are five essential movies that every film fan should watch:
White Heat (1949)
White Heat is the quintessential film noir and often regarded as one of the greatest gangster films of all time.
It stars James Cagney as Cody Jarrett, a psychopathic criminal with a mother complex who makes a daring break from prison and leads his old gang in a chemical plant payroll heist.
The director, Raoul Walsh, uses Cagney's portrayal of the tragic anti-hero who is constantly volatile to explore the psychology of a gangster, something that was not shown on screen at the time. The ending of the film is often quoted and one you're not likely to forget anytime soon.
Double Indemnity (1944)
In Double Indemnity, we get to see the archetypal femme fatal in action.
In the film, an insurance representative lets himself be talked into a murder/insurance fraud scheme by a provocative housewife who wishes her husband were dead. This arouses the suspicion of an insurance investigator whose job it is to find phony claims.
The term "double indemnity" refers to a clause in certain life insurance policies that doubles the payout in rare cases when the death is accidental. What's different about Double Indemnity is that the narrative structure begins and ends in the present. Still, the bulk of the plot is told in flashback narrated by the protagonists, so when we hear the voice-over for the first time, we already know that the insurance representative is doomed.
Leave Her to Heaven (1945)
Filmed in color, Leave Her to Heaven is not the usual black and white movie you see in noir genres.
In Leave Her to Heaven, a writer falls in love with a young socialite, and they're soon married. However, her obsessive love for him spurs a violent, intense, and dangerous jealousy in her that threatens to be the undoing of them both and everyone else around them. The director uses the colorization of the film, the beautiful cinematography, and the attractiveness of the main female character to distract you as you begin to realize that by the end of the film, not all beauty and love is good; sometimes, they are the epitome of evil.
Out of the Past (1947)
Most film historians consider Out of the Past an outstanding example of a classic film noir because it features an amoral femme fatale, dark cinematography and a melancholy storyline.
Film noirs of the time usually start at the beginning but Out of the Past, like the film title states, constantly spirals back to the past. Robert Mitchum plays Jeff Bailey, a private eye who escapes his past to run a small town gasoline station. Eventually, his past catches up with him, and when it does, he must return to the big city world of danger, corruption, double-crosses and deceiving dames.
The Night of the Hunter (1955)
The Night of the Hunter is one of the most shocking and horrifying film noirs of all time.
In this film, Robert Mitchum stars as a psychopathic preacher who believes that God is telling him to murder women, usually widowers, and take their money. The film begins with the corrupt preacher-turned-serial killer as he is arrested for stealing a car. Through fate, he shares a cell with a local man who murdered two men in a bank robbery where he stole and hid $10,000 somewhere on his property. However, the preacher can't find out the location of the $10,000 before the man is executed.
When the preacher is released, he devises a plan to charm the man's unsuspecting widow and steal the $10,000 hidden by her executed husband. The film is undoubtedly ahead of its time, not just in cinematic style but also in subject matter.
Interested in more film noirs? Check out this great list of 100 film noirs!
Are you a film fan who wants to delve deeper into the film industry?
Hocking College offers a two-year degree program in Associate of Applied Science in Film and Video Production. The program gives students the foundation to pursue work in a thriving industry and includes courses and material in various film crew positions.
The intensive, hands-on program will give students experience in scriptwriting, directing, producing, cinematography, lighting, sound recording, editing and film analysis, preparing them to step onto a film set or transfer into a four-year program.
For more information on Hocking College's Film and Video Production program, contact Program Manager Carrie Love by email at lovec37922@hocking.edu or by phone at 740-753-6307.