Hocking College recently began offering an Associate of Applied Science in Automotive Technology that can help get you into a thriving industry. But what exactly is Auto Technology? This blog breaks down what it is, what they do, and how to pursue this degree at Hocking College.
What is Auto Technology?
This is the study of how self-propelled vehicles and machinery operate. Therefore, auto technicians are the people who make sure items such as the engine, fuel and ignition systems, the brakes, transmissions and any electronic and diagnostic equipment in motor vehicles are working correctly and properly maintained.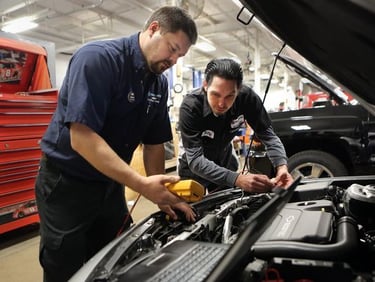 Advancements in the automotive industry have created a tremendous demand for technicians trained to troubleshoot, repair and test today's high tech automobiles. Auto Technicians work in a variety of fields within the automotive industry. If you are considering a career as an automotive technician start by getting a good education and gaining as much experience as you can along the way.
What Do Auto Technicians Do?
Normally auto technicians perform many of the following duties:
Inspect vehicles to determine their overall condition
Record information about parts, materials or repair procedures
Estimate costs for labor or materials
Troubleshoot equipment or system operation problems
Adjust vehicle components according to specifications
Inspect vehicles for damage and record findings so that necessary repairs can be made
Translate the cost of vehicle repairs to customers
Troubleshoot fuel, ignition, and emissions control systems using electronic testing equipment
Repair, overhaul or adjust automobile break systems
Test electronic computer components in automobiles to ensure they're operating properly
Where Can I Get A Degree in Auto Technology?
Hocking College offers an Associate of Applied Science in Automotive Technology degree that can help you break into this thriving industry! So whether you're interested in repairing commuter cars, servicing commercial diesel trucks or building the next generation's fastest race car, the education and training you'll receive from Hocking will literally put you on the fast track to success!
Here are some of the benefits of getting an associate degree in auto technology:
Qualified auto technicians are constantly in high demand
Constant changes in this industry means you'll always be learning something new
You'll be able to form long-lasting relationships with both clients and co-workers
Experienced auto technicians have the option to go into business for themselves
Auto technicians make a median pay of $35,000
The growth rate in this industry indicates that by 2024 there will be 776,885 auto technician positions available and waiting to be filled