Are you creative and classify yourself as artistic? Do you excel in drawing, painting, glassblowing, photography, or graphic design? Are you intrigued by the prospect of learning how to develop your own portfolio? Have you been searching for a career path that would support you and fulfill your creative aspirations? If so, you should consider getting into the art, design, and marketing field.
Where Can I Get the Training For This?
Anyone interested in getting into the art, design, or marketing field should consider enrolling in the Art, Design, & Marketing program at Hocking College located in Nelsonville, OH. In only two years, students can graduate with their Associate of Applied Business in Art, Design, & Marketing.
What Skills Will I Learn in the Program?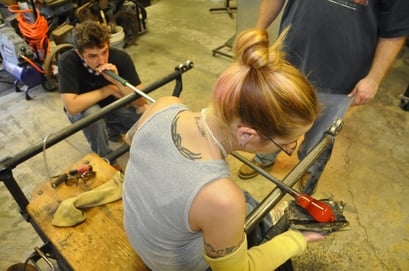 Students who enroll in Hocking College's Art, Design, & Marketing program will learn the following skills:
Drawing
Painting
Graphic design
Glassmaking
Photography
Marketing techniques & strategies
Project management
Spatial management
Visual literacy
How to build a portfolio
How to operate a gallery
How to set up a studio
What Are Some of the Careers I Can Hold from Getting this Degree?
One of the many advantages of getting this degree is the wide variety of career options the degree holder will have to choose from. The following statistics from the Bureau of Labor Statistics and Indeed.com illustrate the number of new jobs in this field that will become available between 2012 and 2022:
Fine artists (painters/illustrators) = 7,900
Exhibit designers = 3,700
Ceramicist = 3,100
Commercial designers = 12,100
Curator = 14,100
Gallery associate = 13,300
Glassblower = 17,250
Photographers = 20,300
Graphic designers = 86,000
What Are Employers Looking for?
Employers in the art, design, and marketing fields are always looking for job applicants with the following attributes:
Business skills
Contemporary art knowledge
Critical thinking skills
Event planning skills
Graphic design experience
Problem solving skills
Print making experience
Project planning skills
Time management skills
Spatial management skills
To find out more information about Hocking College's Art, Design, & Marketing Program, please contact Whitney Goller by email at gollerw@hocking.edu or by phone at (740) 753-6425.