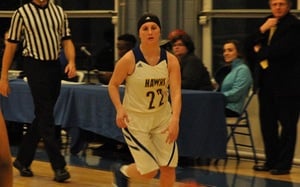 Behind a stellar effort from Macy McCollister the Hawks defeat Lorain County Community College 78-56. McCollister registered her third double-double of the year scoring 33 points and pulling down 10 rebounds. Brandy Merritt also had a double-double pouring in 23 points and grabbing 15 boards. Jena Cozad added 10, Kylie Jettinghoff hit for 6, and Ali Bray and Randi Barker both chipped in 4 a piece.
Lorain was led in scoring by Madi Bonner with 18, Heather Smyth with 13points and 17 rebounds, and Carrie Carlson with 13 points.
After the game Coach Ron Conner was critical of his team's defensive effort stating "We're still not consistent in our defensive intensity. We play well in spurts, then at times completely lose focus."
With the win the Hawks improve to 3-12 on the season. Hocking will return to action on Wednesday as the travel to Sinclair to take on the Tartan Pride.