GENEVA, Ohio — The Hocking College women's basketball team (3-13) won back-to-back games for the first time in two years with their 62-49 victory over Bryant and Stratton (Ohio) Bobcats (2-14) Monday night, Feb. 10.
The Bobcats took an early 4-1 lead before freshman shooting guard Peyton Campbell hit a three-pointer by to tie the game for the Hawks. Freshman guard/forward Aleesha Tingler then gave the Hawks a lead they would never relinquish as the Hawks sprinted out on a 21-4 run to extend the lead to 25-8.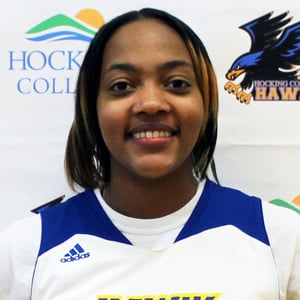 Freshman forward/center Jasmine Manuel led the Hawks, scoring a game-high 26 points on 9-of-13 shooting, including a perfect 2-of-2 from beyond the arc and 6-of-6 at the free throw line. She added four rebounds and a steal to her stat line.
Freshman point guard Jada Lazaro added nine points on 4-of-11 shooting and recored a game-high six rebounds, three assists and a steal. Campbell and Tingler each pitched in with seven points and a single rebound.
Hocking shot 21-of-45 (46.7%) from the floor and hit five triples. Just as importantly, the Hawks converted a perfect 8-of-8 from the free throw line. Hocking dominated inside with 30 points in the paint and 12 points off of 18 turnovers.
The Bobcats were led by Jazmyn Paxton who scored 20 points on 8-of-13 shooting. Ronette Rahmon-Sumlin added 11 points on 4-of-9 shooting, five rebounds and three assists.
Bryant and Stratton shot 18-of-38 (47.4%) with only one three-pointer. They connected on 11-of-12 (91.7) foul shots.
Each team played short-handed and had 18 rebounds.
Hocking's next home games are Wednesday, Feb. 12 against Sinclair Community College and Thursday, Feb. 13 against Wilberforce University Junior Varsity in the Hocking College Student Center. Both games are set for 5:30 p.m.
By: Trevor Stephens - Hocking College Athletics