The Hocking College Foundation is a not-for-profit 501(c)(3) organization that works with members of the community to achieve and maintain excellence, undertake development programs and enhance the college's educational and public service mission. The Foundation provides over 50 scholarships and is responsible for the coordination of philanthropic and fundraising initiatives within the private sector and external support for the college's programs, students, faculty and staff. The mission of the Hocking College Foundation is to promote community awareness, build and nurture meaningful relationships, and connect community partners with giving opportunities that fulfill their philanthropic objectives while advancing the mission of Hocking College.
In addition to the scholarships that the Hocking College Foundation offers to eligible full-time new and returning students, the Foundation also collects applicants for a Student Financial Assistance Fund, and helps to provide financial assistance to students who may otherwise be at risk of dropping out of college due to an unexpected financial emergency. Unlike the scholarships, an application for Student Financial Assistance can be completed at any time while a student is enrolled at Hocking College, and can be used to pay for bills, medical expenses, or other unexpected financial responsibilities. With this fund, the Hocking College Foundation is able to fulfill its commitment to helping students complete their education despite the financial hardships that they might experience.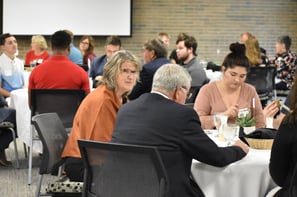 The Hocking College Foundation hosts fundraising events each year, such as its annual Spring Gala which supports and raises money for scholarships and growth and initiative funds. For Homecoming in 2021, the Hocking College Foundation raised additional money for the Student Assistance Fund through its Homecoming Court selection process. For Giving Tuesday (November 30, 2021), The Foundation asked for donations from the community to support scholarships and student funds. In addition to these seasonal efforts, the Hocking College Foundation accepts donations all year. Contributors who donate a minimum annual amount are recognized as a Partner in Education, and Hocking College is thankful for their 2021 Partners in Education: G&J Pepsi, Park National Bank, Reed & Bauer, People's Bank, Snider Fuller and Stroh, GoodCare by CPCI and Vita Management.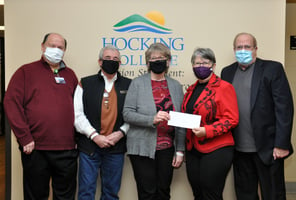 Many of the Hocking College Foundation Scholarships are awarded to students without the need for additional applications. To receive priority consideration for these scholarships, students need to complete their Free Application for Federal Student Aid (FAFSA) by the year's deadlines, as outlined in the academic calendar. For the 2022-2023 school year, new students must complete their FAFSA by February 15, 2022, and returning students must complete their FAFSA by March 31, 2022, to be considered for scholarships without additional application. Some of these scholarships include the Grizzly Scholarship, the John Light Scholarship, and the District Scholars Scholarship, along with several others.
Some Hocking College Foundation Scholarships do require an additional application to be considered, and new and returning students should verify their eligibility for these scholarships and apply to earn additional funding towards their academic careers. One such scholarship is the Band and Choir Scholarship, which is awarded to one or more full-time students who join the Hocking College Singers or Hocking College Band and apply for the scholarship with a video audition. Additional scholarships which require application are the Davis S. Fraedrich Memorial Scholarship, the Patrick Gangwer Brewing Scholarship and the Presidential Scholar Award.
One scholarship from the Hocking College Foundation that does not require additional application is the R. Kenneth Kerr and Nada Jean Smith Family Scholarship which is awarded to a veteran or current military member at Hocking College. Formerly titled "The Kerr Family Scholarship'', this gift was revised in 2019 and renamed the R. Kenneth Kerr and Nada Jean Smith Family Scholarship, in honor of both Kenneth Kerr's and Nada Jean Smith's ongoing mission to provide Hocking College Foundation with scholarship opportunities for over 50 years. The legacy of the family is rooted in Athens County, Ohio where they first managed the Kerr Family-Owned Pepsi Bottling Business, then sold the bottling company and began the Kerr Distributing Company (KDC). Courtesy of Mr. & Mrs. Kerr's generosity, the KDC began offering scholarships to the children of their locally-hired employees that allowed them to attend Hocking College. After the family sold the business, they made changes to the scholarship and opened it up to local veterans and military personnel. Today, the metaphorical torch that symbolizes Mr. & Mrs. Kerr's legacy of philanthropy has been proudly passed on to their children, Kenneth "Kenny" Kerr, III and Calista Jean Kerr Strickmaker. Mr. & Mrs. Kenneth Kerr, III and Mr. & Mrs. Ron Stickmaker currently serve as the donors of the R. Kenneth Kerr and Nada Jean Smith Family Scholarship.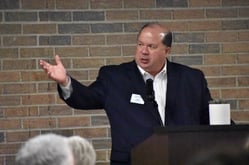 Please consider celebrating National Giving Month in December with us by donating to the Hocking College Foundation and supporting local Higher Education initiatives, supporting students from around the corner and from around the world. Contact the Foundation Director, Doug Wells to learn more or visit online at foundation.hocking.edu.
Doug Wells, Director of the Hocking College Foundation
wellsd34471@hocking.edu
740-753-7071