Recently Hocking College's School of Public Safety Services signed a 'two plus two' agreement with the University of Wisconsin Oshkosh (UWO).
Technically, the 'two plus two' agreements involve a two-year school forming a mutually beneficial partnership with a four-year institution. Primarily these relationships provide associate degree holders with opportunities to earn their bachelor's degree at a four-year school.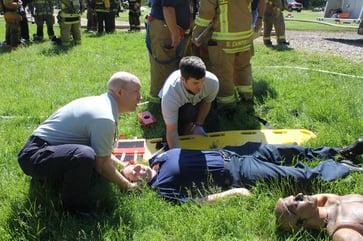 Under the terms of Hocking College's partnership with UWO, students in their Emergency Medical Services program will be able to take online classes that will result in them obtaining their Bachelor of Applied Science in Fire and Emergency Response Management degree.
According to Hocking College's Dean of Public Safety Services, Nursing and Allied Health, Penny Payne, "This agreement will further the student's chances of getting their bachelor's degree and provide them with more avenues for success."
Some of the additional benefits of the 2+2 agreements include:
Students will save money by first attending a community college before transferring to a four-year school.
Students won't need to seek out, or apply to, a variety of other four-year schools to further their education.
Students won't be required to relocate to another city/state to pursue their bachelor's degree.
Each student's degree path will be clearly defined for them.
Both schools will work together to make sure each student's credits are transferable.
Non-traditional students will have a more flexible route towards obtaining a bachelor's degree.