Feel like there's never enough money and you're always struggling to make ends meet? You're not alone. With rising tuition costs as well as rising living expenses, it can be a struggle to meet your basic needs and still enjoy your time as a college student.
With the average college student graduating with $37,172 in student loan debt, finding ways to save money in college is not just an option, but a necessity.
The following tips will help you save anywhere from a few dollars a day to hundreds of dollars a semester, making it easier to meet your financial needs and still enjoy your college experience.
1. Pay Yourself First
You should get a savings account if you don't already have one. Once you have a savings account, determine a percentage of your income you want to save each payday and have it automatically drafted into your savings account so you don't have to think about it.
The conventional financial wisdom says you should save 10 to 20 percent of your income, but if you're only saving three to five percent, you can still build up a nice nest egg over time.
2. Buy or Rent Used Textbooks
College textbooks are expensive. An easy way to save hundreds of dollars each semester is to buy used books or rent your books instead of buying them. You have several options to choose from when looking for used books, such as Amazon, eBay and textbooks.com. There is no reason to pay full price for textbooks these days.
3. Don't Eat Out So Much
It's not realistic to eat every meal at home as a college student; however, constantly eating out can put a serious strain on your budget. The average fast food meal costs five to seven dollars. If you're eating out every day for multiple meals, the money you're spending in a week adds up quickly.
Make an effort to eat some of your meals at home or at the dining halls to save money. If finding the time to cook is a concern, spend a few hours on the weekend to prep your meals for the week. The extra time you spend cooking adds up to significant savings in the long run.
---
---
4. Track Your Spending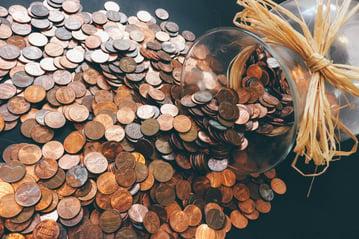 We aren't always honest about how we spend our money. Just as you would track your food if you were starting a new diet, you need to track your spending to understand how you're spending your money.
Once you understand how you're spending your money, you can make decisions as to what to cut out to help you spend less and save money in college.
You can track your spending manually or you can use one of the many popular apps designed for that purpose. Some popular options include DollarBird, or Fudget and a good budget.
5. Pay With Cash
Studies show people who pay in cash spend less money than those who pay with a card. Psychologically, it's harder to hand over money than it is to give someone a card to make your purchase.
If you're serious about saving money, make all of your purchases with cash and leave your debit card at home. You'll most likely realize that many of those impulse purchases you make seem less important when it's physical dollar bills you have to pay with than when paying with a card.
6. Shop At Places That Give You A Discount
Many places give students discounts. If you're not taking advantage of this student perk, you should start doing so immediately. Make a list of all the businesses in your area that give college students a discount and spend your money at those establishments.
You may find that you save a lot of money on things you already buy just by shopping at places that offer student discounts.
---
Still unsure of ways to save money? Check out the videos below for
more helpful tips.