Students enrolled in Hocking College's Criminal Justice program will now be able to take advantage of their articulation agreement with Ohio University.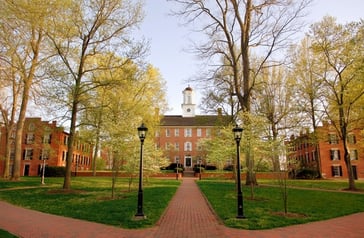 Once students have obtained their associate degree in criminal justice from Hocking College, they can then pursue getting their bachelor's degree from Ohio University courtesy of two program options.
Option One: "2+2" Program
The first option students have to choose from is the traditional "2+2" program. After graduating from Hocking, students can spend the next two years at Ohio University where they will be required to take a mix of general education classes, and 10 additional courses at the 3000 and 4000 level.
Option Two: "3+1" Program
The second, and more affordable option, is the "3+1" program. In this instance, Hocking graduates would spend an additional year at the college taking classes that would fulfill their general education requirements. Then for their senior year, students would transfer to Ohio University to earn the remaining credits they need to get their bachelor's degree.
What Are The Program Requirements?
Students interested in either of these two programs are required to have completed their associate degree in criminal justice, as well as have a GPA of 2.0 or higher.
What's The Cost?
The estimated expenses for getting a bachelor's degree in criminal justice from Ohio University are as followed:
Regional Campus = $233.00/Credit hour
Online = $240.00/Credit hour
Athens Campus = $499.00+/Credit hour
Out-of-State students can complete the online program at $243.00/Credit hour
In addition, any application fees will be waived if students make their arrangements through Ohio University Community Partnerships Manager, Veronica Hiner. Hiner is on the Hocking College Campus every Wednesday in the Career and University Center (JL 191). She can also be reached by email at hiner@ohio.edu or by phone 614-284-0576.
Anyone needing more information on the two programs mentioned above can visit Ohio University's Community College Partners page.
---
For more information on Hocking College's Criminal Justice program, contact Ashlynn Lucas by email at lucasa35804@hocking.edu or by phone at (740) 753-6472.