NELSONVILLE, Ohio—Birds love grapes.
That was a fear for Hocking College Agroecology Program Manager Sasha Sigetic as the college's Nelsonville vineyard neared its first season of bearing useable fruit.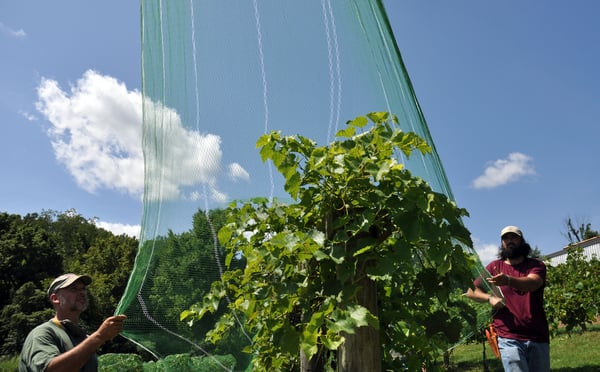 "Once the grapes begin to turn, the birds will just start diving in," Sigetic explained.
To protect the potential harvest, she contacted Steve Tillman, who does research and development with Eagan, Minnesota-based Plantra, earlier this year to purchase protective netting to place over the trellises. She ended up with more than netting.
"As I talked with Sasha and found out how large the college's vineyards are, I suggested getting an applicator," Tillman said. A netting applicator helps drape netting over the grape trellis from the top down instead of pulling the netting from one side to the other.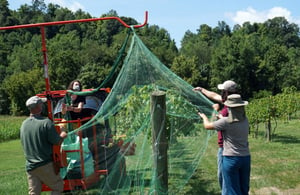 "If you're doing more than an acre, from an ergonomics standpoint, you really need one to save your arms," Tillman explained.
He offered to send the college the prototype of an applicator the company eventually produced. An offer Sigetic readily accepted.
Tillman said Plantra has worked with other educational institutions like the University of Minnesota and Michigan State University on vineyard projects.
The applicator Tillman sent attaches to the back of a tractor. Netting from a small bale is threaded through pipes and then draped on top of the trellis, as few as two people walking on either side, pulling the nets down the trellis' sides. With the applicator, the vineyard in Nelsonville took about an hour to drape in netting.
"The machine is an absolute dream," Sigetic said. "Doing this by hand, would have taken forever."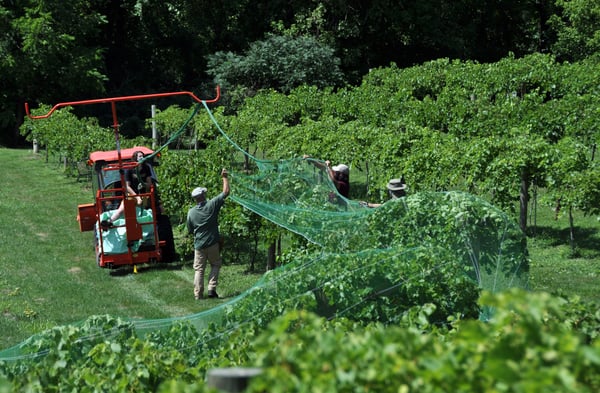 It's not just the time- and labor-saving opportunities that have Sigetic excited; it's the opportunity to expose her agroecology students to use specialized equipment used in the industry.
"I don't know a single farm or orchard that doesn't have a tractor or implements," she said. "The more the students use them in our program, the more comfortable they'll be on the job, and if they ever find themselves at a vineyard or anywhere that uses netting, they'll be comfortable."
For Tillman's part, helping a program with a hands-on teaching ethos like Hocking's Agroecology program makes sense.
"At Plantra, we learn by doing," he said. "We like working with colleges that have that same philosophy. Working with these programs exposes students to the technology before they get into the workforce and prepares them for what they'll see."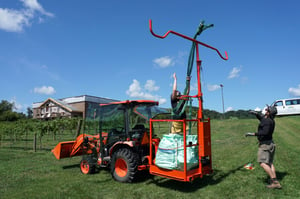 The hands-on experience for Hocking College students doesn't end with the harvest. The grapes from the Nelsonville Vineyard will be used by Hocking College Fermentation Science students to create wine.
The college also has vineyards at its Perry County and Logan campuses. The grapevines at Perry were harvested this year, the vines at Logan are still too young to produce useful fruit.
MORE ABOUT AGROECOLOGY AT HOCKING COLLEGE
Are you concerned about the global food crisis, diminishing soil health, polluted waterways, etc.? Do you want to grow and market food for local communities? Or do you want to discover how to model nature on the path to creating sustainable agriculture and the next food revolution?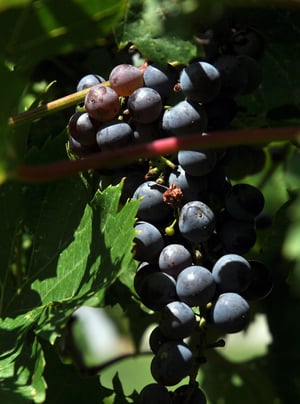 Students in Hocking College's Agroecology program learn how to do all of those things by using ecology to evaluate the productivity of agricultural systems, including the dynamics between technological advances, biophysical interactions, socioeconomic relationships, and the geology and geomorphology of a region.
Traditional production agriculture is changing as people begin to question where the food they eat comes from, what chemicals were used, if it was genetically modified or if growth hormones were used. Smaller farms can use the techniques learned in Agroecology to choose and grow higher-value crops and livestock.
Students learn hands-on techniques at the college's farm in Logan, Ohio, and indoor facilities to give them the technical job skills and professional judgment to work independently.
For more information about the Agroecology program, contact Program Manager Sasha Sigetic by email at sigetics@hocking.edu or by phone at 740-753-6283.