Nelsonville, OHIO—The Hocking College women's basketball lost its first game of the season on Friday, Feb. 5, against Terra State, 79-61, at the Hocking College Student Center. The game was a test of endurance for both teams as Hocking College had only six players suited up for the game and Terra State only traveled with five, due to injuries.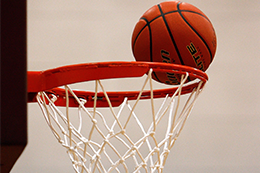 After trailing, 16-13, after one quarter, Hocking started fast in the second quarter and tied the game at 18-18 with 8:03 left to go before halftime. But Terra State went on an 18 to 2 run for the final 6:25 of the second quarter to go into halftime with a lead of 36-20.
Terra State was able to maintain the lead throughout the second half despite having two players foul out of the game. Kearrah Peace scored a game-high 28 points for the Titans. Terra State placed four players in double figures with superior speed on the court.
The leading scorer for Hocking College was Jasmine Manuel, who recorded a double-double with 17 points and 12 rebounds. Sophomore guard Peyton Campbell led all rebounders with 16 and added six points — all in the second half — with three assists. The Hawks had two players make their collegiate debut: freshman guard Sasha Alexander Schostek and freshman guard India Amour-Clark. Amour-Clark was the team's second highest scorer with 15 points. She also collected six rebounds and an assist.
Schostek scored six points in addition to eight rebounds and three assists. Sophomore point guard Jada Lazaro completed a triple-double with 14 assists, 12 boards and 10 points. That's the first triple-double in the history of Hocking College women's basketball program. Sophomore forward Aleesha Tingler added eight points and nine rebounds.
The next game for the Hocking College women's basketball team will be on Saturday, Feb. 13, as they travel to play Bryant & Stratton College at 5 p.m.