Beginning today and running through Wednesday, Oct. 24, Hocking College art students will volunteer to take on a prospective mentee who'll shadow them for a day. According to the Art, Design & Marketing Program Manager, Whitney Goller, between six to nine students from different high schools will be taking part in this event.
In addition, from October 22 through November 16 there will be a high school student show in the Art Gallery in John Light Hall which will feature artwork from students from area high schools.
Are You Looking for a Creative Career?
Would you classify yourself as artistic? Do you enjoy drawing, painting, glassblowing, photography, or graphic design? Are you intrigued by the prospect of learning how to develop your own portfolio? Have you been searching for a career path that would allow you to both support yourself and fulfill your creative aspirations? If so, you should consider in enrolling in Hocking College's Art, Design & Marketing program. In only two years, students can graduate with their Associate of Applied Business in Art, Design & Marketing degree.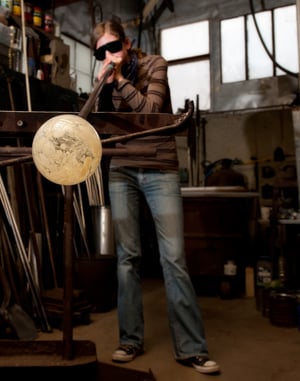 What Skills Will I Learn in this Program?
Students who enroll in Hocking College's Art, Design & Marketing degree program will learn the following skills:
Drawing
Painting
Graphic design
Glass making
Photography
Marketing techniques & strategies
Project management
Spatial management
Visual literacy
How to build a portfolio
How to operate a gallery
How to set up a studio
For more information on Hocking College's Art, Design & Marketing program please contact Program Manager Whitney Goller by email at gollerw@hocking.edu or by phone at (740) 753-6425.