Have you ever considered becoming a registered nurse (RN)? If so, there are many reasons for becoming one, such as:
You have the option of a work schedule that's 3 days on and 4 days off.
You can work in a variety of settings such as a hospital or doctor's office, as well as doing private work or being a consultant for an insurance company.
You have the option to work anywhere from major cities to rural communities.
The current nurse shortage means the healthcare industry is in need of qualified RNs to fill these vacancies.
According to the Bureau of Labor Statistics, RNs make a median pay of $70,000.
What Are Some of the Job Duties as an RN?
Some of the daily duties RNs perform at their place of employment include:
Updating and revising medical records
Monitoring patient conditions
Administering intravenous medications
Recording patient medical history
Informing and updating doctors on patient conditions
What is the Job Outlook for RNs?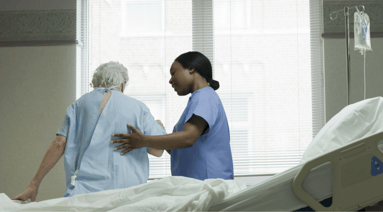 The Bureau of Labor Statistics indicates that the job outlook for RNs from 2016-2026 will be up 15% and there'll be 438,000 positions waiting to be filled by 2026.
In addition, RNs can also choose to further their education and specialize in one specific area of healthcare such as geriatrics, oncology, or surgery which will increase their pay and could lead them on to other job opportunities.
Where Can I Get the Training I Need to Become an RN?
If you have a background in nursing and would like to become a RN, Hocking College has a PN2RN transition program. In only 3 semesters, you could graduate with an Associate of Applied Science in Nursing Transition PN2RN degree.
Who is Hocking College's PN2RN Program Designed For?
Hocking College's PN2RN program is designed for Licensed Practical Nurses who are seeking to further their education and become Registered Nurses.
Is Hocking College an Accredited Institution of Nursing?
Yes! Hocking College is accredited both through the Ohio Board of Nursing in Columbus, Ohio and through the Accreditation Commission for Education in Nursing (ACEN) in Atlanta, Georgia.
What Will Students Learn in the PN2RN Program?
Students get the hands-on training they need in work environments such as hospitals, long-term care facilities, home health care agencies, schools, and clinics all within a 75-mile radius from Hocking College.
Students in the program will be responsible for their own transportation to and from the facilities.
How Many Students Does the Program Accept?
Currently, admission to Hocking College's PN2RN program is limited to only 30 students.
If you or someone you know is interested in learning more about Hocking College's PN2RN program, please contact the Program Manager, Charlotte Groves, by email at grovesc8647@hocking.edu or by phone at (740) 753-6377.