Beginning in Fall 2018, students will be able to take part in Hocking College's new welding certification program at Hocking College's Logan Educational Site. Aside from learning valuable skills that will help them break into this lucrative industry, students will be able to enjoy the benefits of working in a state-of-the-art Lincoln Welding Lab.
What Is A Lincoln Welding Lab?
Lincoln Welding Labs are learning facilities where students work with tools and equipment manufactured by the prestigious Lincoln Electric Manufacturing Company (LEMC).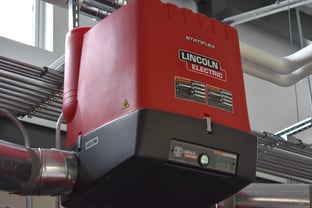 Headquartered in Cleveland, Ohio, LEMC has been the industry leader in their field for over 120 years. With 63 manufacturing locations in 23 different countries, this company continues to set benchmarks in the development, design and manufacturing of welding equipment, welding consumables, robotic systems, plasma and oxy-fuel cutting equipment, and training simulators.
What Kind Of Welding Equipment Will Students Be Working With?
The following are some of the primary pieces of Lincoln Welding Equipment students enrolled in Hocking's new welding program will be working with: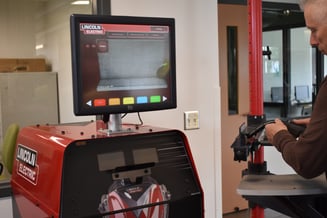 VRTEX 360 Virtual Welding Machine. Before working with actual welding equipment, students will get to hone in their skills by using this virtual welding simulator (pictured right). This tool will measure things such as the student's travel angle and travel speed while also scoring them on their performance.
Tomahawk 1000Plasma Cutter. This portable machine comes complete with a hand torch and a continuous output control that prevents downtime.
Precision TIG 275. This shop machine offers the user versatility and is excellent for making more precise-based welds.
K4023-2 Power MIG 350mp. This is a multipurpose 3-in-1 welding tool (pictured right) that can accommodate anyone who needs to utilize more than one welding process.
How Safe Will The Lab Be?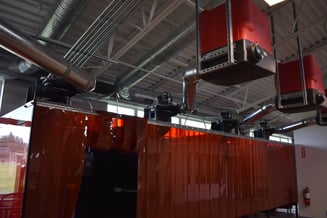 According to Program Manager and primary instructor, John McClung, one of his goals is to incorporate the importance of taking safety precautions in his classes. More importantly, the welding lab will feature an Environmental Protection Agency (EPA) and Occupational Safety & Health Administration (OSHA) approved ventilation system to assure that students are not exposed to any harmful fumes, gases, or smoke.
For more information on Hocking College's Welding program, contact Sean Terrell by email at terrells@hocking.edu or by phone at (740) 753-7149.