Students planning to enroll in Hocking College's new Welding program have the opportunity to obtain the skills and hands-on training they need to successfully become a part of this thriving industry.
However, getting into this profession does pose certain risks to the safety of its employees. Some of these risks include being exposed to fumes or sparks that can result in a welder receiving a serious burn.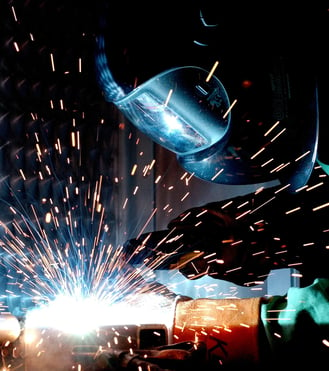 According to Lincoln Electric, the industry leader in the production of welding equipment, one of the top five potential welding safety hazards to avoid are injuries obtained when welders aren't wearing enough or the right kind of protective attire.
Therefore, in the interest of helping future welding students avoid a potential on-the-job injury, here is a check list of articles of protective clothing they should invest in:
Leather skull cap to be worn underneath a welding helmet
Jumper or overalls
Long-sleeve woolen or cotton shirts that have been treated to reduce its combustibility
Leather flameproof apron
Leather leg apron
Leather shoulder cover
Heavy denim pants
Heavy wool socks
High leather boots
Fire-resistant welding jacket, boot covers, and

leggings

Leather flameproof gauntlet gloves
In addition, aspiring welders should keep the following tips in mind in regards to their work appearance and attire:
If you have long hair keep it neatly tied back.
For your protection, wear light layers of clothing and don't

wear rings or any form of jewelry on the job.

Don't overdress during colder months because this will cause you to sweat more.
Make sure your work shirts don't have pockets, and keep any collars or cuffs of your skirt buttoned at all times.
When you're shopping for shirts, lean towards purchasing darker colors that will prevent light reflection.
Don't buy denim pants or overalls that have cuffs on the legs.
Make sure clothes are as flame retardant as possible.
If you're using a flame retardant treatment on your work clothes, this will become less effective after every wash. This type of treatment needs to be reapplied to your clothing periodically.
Avoid any holes, rips or tears in your work clothes.
Make sure your clothing can protect you from UV radiation, hot metal, open flames, and sparks.
Every article of clothing should be free of grease and oil.
Make sure any articles of protective wear you purchase have no openings or gaps.
For more information on Hocking College's Welding Certification Program, contact Sean Terrell by email at terrells@hocking.edu or by phone at (740) 753-7149.