According to the Center for Disease Control and PreventionCenter for Disease Control and Prevention, the U.S. is currently in the midst of a widespread flu outbreak that has effected all 50 states.
In addition, one of the groups of people who fall into the high risk category for contacting the flu are college students. Due to their hectic schedules, and multitudes of different people they come in contact with on a daily basis, this makes them more susceptible to the flu than others.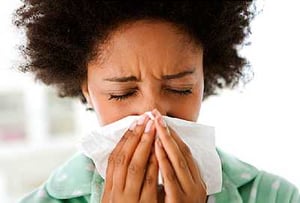 However, for most college students the only thing worse than getting the flu is having to make an expensive visit to the doctor in order to recover.
So, in the interest of helping college students stay healthier and wealthier this flu season, here are some cost effective measures on how to fight the flu this winter.
13 Cost-Effective Measures To Fighting The Flu On A Budget
Fortunately all of the suggested items listed below can be purchased by students at their local department store for way less than what it could cost them to visit their doctor, or the nearest urgent care facility. Also, the dollar figures listed reflect the lowest possible prices currently offered for these particular items:
Purchase a multi-pack of on-the-go tissues ($1.97) so no matter where you are or what you're doing you'll always be able to cover your nose when you sneeze

Buy an essential oil diffuser ($9.87) and fill it with cedarwood essential oil ($5.96) to help you sleep better at night, especially if your roommate already has the flu

Switch from coffee to antioxidant rich green tea ($1.98) to help make you feel more energized

When your nose feels stuffy flush out your sinuses with a nasal rinse ($7.84)

Add more zinc ($3.95) to your diet

Use lavender essential oil ($9.23) as a hand/surface sanitizer

Use either lemon essential oil ($5.99) or sweet orange essential oil ($5.50) as an aromatherapy tool to help make you feel more awake and alert should you begin to feel ill

Occasionally swipe lip balms or lipsticks with an antibacterial swab ($1.47) to keep them sanitary

If you're using a communal computer, keep some antibacterial keyboard wipes ($3.98) handy

Keep a package of disposable gloves ($6.58) on hand to use when you're cleaning, and especially if you're cleaning a bathroom that you have to share

Put a few drops of frankincense essential oil ($9.99) into your bathwater to ease congestion

Keep any exposed cuts covered with a bandage ($1.98)

Gargle twice a day with an antiseptic mouth wash ($4.75), or if you're looking for a much cheaper alternative, try gargling with some warm water mixed with table salt ($0.84)