Winter is coming, which only means one thing... flu season! Those students who are pursuing a career in health care are required to get a flu vaccination. Why? Because health care personnel frequently provide care to others who are at an increased risk of infection (such as newborns and the elderly), so it's important for them to get immunizations to break the chain of infection. The reason for vaccinations against the flu is because it's easily transmitted from person-to-person, as well as from inanimate objects such as tabletops, cell phones, door knobs, keyboards, etc.
What are the 4 Phases of an Infectious Illness?
Whenever you get the flu, it has to go through four phases which are the following:
Phase 1: Incubation
This is when pathogens enter the host and the person may experience symptoms such as a low-grade fever, fatigue, or muscle aches. The incubation period for the flu is typically 1-3 days.
Phase 2: Prodromal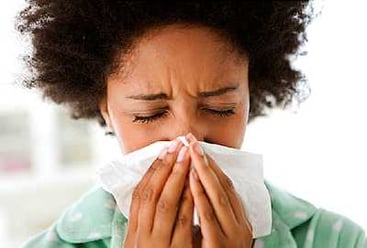 This is when the onset of signs/symptoms (i.e low-grade fever, fatigue, etc.) change to more specific symptoms such as increased white blood cells in the bloodstream or inflammation. During this time, microorganisms grow and reproduce, and a person may be considered contagious. It's during this phase in which the person should not report to school or work, and instead remain home to rest and increase their fluid intake.
Phase 3: Illness
This is when the individual demonstrates signs or symptoms specific to the type of infection they are experiencing. For example, a person afflicted with the common cold typically complains of a sore throat, sinus congestion, and/or increased nasal secretions.
Phase 4: Convalescence
This is when a person's symptoms of an infection resolve. The length of time for recovery/recuperation depends on the severity of the infection and also the individual's general state of health.
What is Influenza?
Influenza, or more commonly know as the flu, is a contagious respiratory illness caused by influenza viruses that infect the nose, throat, and sometimes the lungs. It can cause mild to severe illness, and at times can lead to death.
What Are Symptoms of the Flu?
The flu is a mild to severe illness, and at times can lead to death. The flu is different from a cold as it usually comes on suddenly. People who have the flu often feel some or all of the below symptoms:
Fever
Cough
Sore throat
Runny or stuffy nose
Body aches
Headache
Chills
Fatigue
Diarrhea
Vomiting
What Can I Do To Prevent Getting the Flu?
There are several things you can do to prevent getting the flu, the first and best way is by getting a flu vaccination each year. Other ways you can fight off the flu include:
Washing your hands regularly
Covering your mouth & nose, especially when coughing
Avoid touching your eyes, nose, or mouth
Avoid close contact
Staying home when you're sick
What is the Flu Vaccine?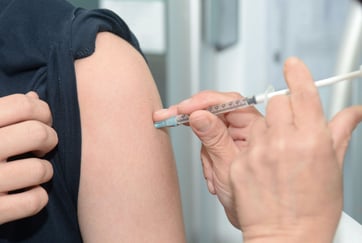 The flu vaccine contains an inactivated influenza vaccine [IIV], a recombinant influenza vaccine [RIV], or a live attenuated influenza vaccine [LAIV4]) with no preference expressed for one vaccine over another. Like any virus, influenza viruses change with time. This is why it is encouraged to get a flu vaccine every year as a response to the flu viruses that are projected in the approaching flu season.
But Can't the Flu Vaccine Cause the Flu?
Many people have the misconception that a flu vaccine can cause the flu, which is not the case. The flu shot is developed by one of two methods: one type of injection uses flu viruses that have been "inactivated" (i.e. destroyed/killed) and therefore are not capable of causing infection. The other type of injection involves recombinant technology utilizing just a single gene from a flu virus to trigger the body's immune system to respond to this foreign invader without causing an infection. It takes 2-3 weeks for the body's immune system to produce antibodies to the vaccine, which is why it is recommended to get the flu shot before flu season comes around.
Who Should Get the Flu Shot?
All health care personnel listed below need to get the flu shot.
Physicians
Nurses
Nursing assistants
First responders
Medical technicians
Medical assistants
Employees of nursing homes
Employees of chronic care facilities
Pregnant women
Where Can I Get the Flu Shot?
Students who are enrolled in Hocking College's STNA program will need to get the flu shot prior to their first day of class. Flu shots can be administered at your primary-care doctor, urgent-care centers, pharmacies such as CVS and Walgreens, or even at your job (check with your HR department first on availability).
For more information on what vaccinations STNA students will need in order to enter the health care field, contact STNA Program Manager, Patricia Altier, by email at altierp@hocking.edu or by phone at (740) 753-6370.