Get the Most Out of Your Campus Tour
As you research and apply to colleges, some of the most important information you'll need to make your decision about which school to attend will come from your campus tour.
Almost all colleges and universities offer guided tours for prospective students, and it's a great way to assess the facilities and ask any questions you may have about what life is like on campus. Here's what to expect and some important tips for your campus tour that will help you get the most out of your time.
Campus Tour Basics
Though each college varies in what it offers, the average campus visit takes about two or three hours and includes a general admissions information session and a guided tour. Each of these can take about an hour to an hour and a half. Tours are often led by current students, which give you an opportunity to get a sense of campus life from a peer rather than an adult in the admissions office.
The length of the tours varies depending on the overall size of the school. You might also expect a slightly shorter tour at a college that caters to commuters, since dorms won't take up your guide's time.
What to Look for on Your Tour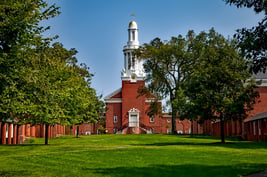 Though you can read all about a college's programs online, the only way to get a feel for an institution's atmosphere is to visit. While on tour, look around to see where students are gathering and how they interact.
Is there a friendly vibe, or do people seem stressed? If it's offered, an overnight visit to stay in a dorm room is a great idea — you'll get a chance to talk to students and gather their opinions about classes and campus life.
It's also a good idea to check out the food in the cafeteria while you're on campus, as well as any amenities like a coffee shop, the library, or nearby hangouts that may not have been part of your tour. Grab a copy of the school newspaper and check out other media like bulletin boards, campus radio and art galleries to get a sense of the culture of the college. If possible, sit in on a class to get a sense of the teaching style and difficulty of academics as well.
Important Questions to Ask
Most of the "official" information about the college is available online and at the standard information session, but you should take every opportunity to chat with actual students about their experiences. Whether you ask your tour guide or students you bump into at the bookstore, ask these questions before you head home:
What's the best/worst part of being a student here?
What do you think of your professors? Are they good teachers?
Where can I go if I need extra help in my classes?
What's your typical day like?
What do you do on the weekends?
Was making the transition from high school to college difficult?
What advice would you give a freshman?
How to Be Your Own Tour Guide
If you can't make an official campus tour — or if one isn't offered — you can still take a walk around campus on your own to get a feel for the place. Exploring campus on your own can give you an unfiltered view of the place instead of the "official" version provided by the tour guide.
Exploring a college campus on you own can offer you the chance to see the institution from a totally neutral perspective-which therefore gives you the chance to form your own unfiltered opinions of the school.
Most colleges offer a map online, so print it out and take a walk around the major buildings. Though you may not be able to access dorms and classrooms, be sure to go to the cafeteria, central quad and any other area where students gather to chat with students about their experiences. You may also want to explore the bookstore, library, and gym; all of which are often open to the public as well.
Make A List of College Pros & Cons
Regardless if you were able to have an official college tour, or you simply struck out to see the campus on your own, afterwards it might be a good idea to make a list and compare/contrast the college's pluses and minuses.
Also, since you're probably going to go on more than one college tour the results of your list could definitely help influence your final decision.