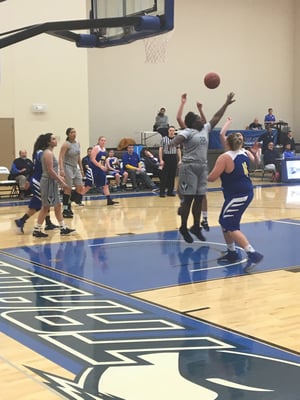 Hocking College 77
Columbus State Community College 88
CIRCLEVILLE, OH -- Hocking College traveled to Ohio Christian University on Tuesday night to take on the Cougars of Columbus State in the NJCAA Region XII Championship.
The Hawks came out strong and took an early 6-2 lead over the Cougars but Columbus State quickly regained control of the game and would close out the first quarter with a 23-13 lead.
That early 10 point deficit would prove too much to overcome for the Hawks as Columbus State knocked off Hocking College 77-88.
The Hawks were led in scoring by Brandy Merritt and Macy McCollister with 26 points apiece. Merritt also chipped in 6 assists, 4 rebounds, 2 steals and 1 block while McCollister had 8 rebounds, 4 steals, 1 assist, and 1 block. The next leading scorer for Hocking College was Alison Bray with 12 points followed by Jena Cozad with 9, and Kylie Jettinghoff with 4. Randi Barker came off the bench to contribute 3 assists and 1 rebound.
Hocking College wraps up the year as the Region XII Runner up and will look to build on the success of this year in the 2017-2018 campaign.