Recently, California resident Holly Suzanne Courtier gained national attention when she mysteriously disappeared during a hike. What started as a trek in Zion National Park in Utah resulted in Courtier vanishing for almost two weeks.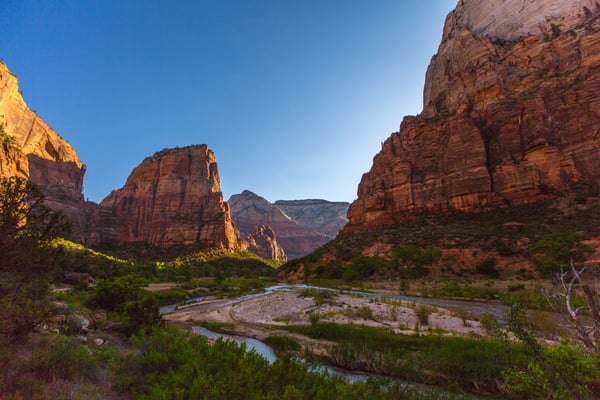 To make matters worse, when Courtier went missing, she had few supplies and neglected to let anyone know her plans for the day.
The Washington County Sheriff's Office, the Utah Division of Wildlife Resources and the Grand Canyon National Emergency Service Team were called in to solve the mystery of what happened to Courtier?
When a credible tip finally led search parties to Courtier's whereabouts, officials reported she was severely dehydrated, suffering from a concussion and unable to walk without assistance when she was found.
Hiking can be dangerous even on less risky trails.
Hocking College Ecotourism and Adventure Leadership Program Manager Jennifer Johnson has suggestions that could prevent other fledgling outdoor enthusiasts from falling into similar situations.
First, Johnson advises that novice hikers refrain from planning outings that require a level of experience they haven't quite reached yet.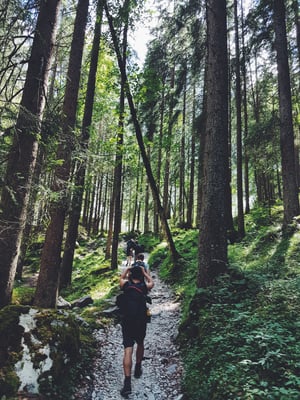 "Most of the time when these incidents occur, it's because people are in way over their heads," Johnson said of Courtier's disappearance.
Johnson's advice is for inexperienced hikers to partake in outings that pose far less risk.
"If you want to push your skills to the next level, hire a guide or join an organized group event to gain the skills you may be missing," she said.
"You don't know what you don't know, and the wilderness can be a high-risk environment," Johnson explained. "It's best to play it safe until you have a few trips under your belt."
She also suggests that no one should head into the wilderness without an itinerary.
"You should always have a plan that you share with others, and you should stick as closely to that plan as possible," Johnson said. "If you don't check-in, many times, rescuers can pinpoint when your plan went awry and find you more quickly."
Lastly, she advises that if hikers do happen to get lost in the wilderness, "they shouldn't wander and should stay as close as they can to the point where they got lost."
"Without having a way to make an educated guess where you are, wandering usually makes the situation worse," she explained.
Johnson also stressed the importance of taking a GPS device on hiking trips, noting that "many GPS units come with an SOS feature which is invaluable when traveling in the wilderness, especially by yourself."
Courtier's misadventure "just goes to prove that the wilderness is no place for people who are unprepared for emergencies," Johnson said.
What are some hiking essentials?
According to the Ohio Department of Natural Resources, while day hiking is a great way to work out, this outdoor activity also poses specific risks to every hikers' health and safety, especially inexperienced or novice hikers.
The following are some essentials that anyone planning a hiking trip should bring along:
A map, compass, personal locater or GPS device
Equipment and clothing that protects you from the weather: sunglasses, sun-protective clothes, sunscreen with an SPF of at least 30 and rain/snow gear
Insect repellent
First-aid kit
Multi-purpose tool
Matches or a lighter
Extra food
Extra water or water sterilization equipment
A headlamp
One of the most important preparations a hiker can take before heading out into the wilderness is to make sure they're appropriately dressed. Here are a few suggestions to consider when you're picking out your hiking attire:
Wear loose, comfortable clothing that allows you to move/climb about freely.
Avoid 100% cotton garments such as cotton socks or anything made of denim. Cotton holds 27 times its weight in moisture, and moisture pulls heat away from the body 25 times faster than air. If a hiker is sweating or gets wet and is wearing cotton, cold emergencies such as hypothermia can happen quickly.
Bring clothes that keep you warm (even when wet) like fleece or wool and outerwear that can keep you dry, such as treated Nylon or Gore-Tex.
Layer your clothing so you can add-or subtract-things depending on how warm or cool you get.
During the summer, go for lighter colors that will reflect heat better.
What is Ecotourism?
Ecotourism is the fastest growing niche in the travel industry. It is a form of travel that focuses on empowering tourists to be environmentally and culturally responsible, promote conservation and appreciate the natural beauty of the destinations they're visiting.
More about Hocking College's Ecotourism & Adventure Leadership Program
Students who enroll in Hocking College's Ecotourism and Adventure Leadership program will learn about nature and ecological sciences and cover subjects ranging from interpretive and tour guide services and wilderness skills to adventure leadership.
This hands-on program would be an ideal fit for students who love to travel, enjoy embracing other cultures, have a deep sense of appreciation for the environment, and aren't afraid of roughing it in the great outdoors.
People seeking an Associate of Applied Science in Ecotourism and Adventure Leadership degree at Hocking College will also appreciate the school's smaller class sizes.
Hocking College's smaller class sizes offer students more one-on-one time with their instructors as they develop the following skills:
How to lead groups during outdoor educational and recreational trips.
How to plan outdoor recreation activities and evaluate their safety and their environmental, sociocultural, and economic impact.'
How to properly operate, maintain and determine the effectiveness of outdoor recreation equipment.
How to provide care during medical emergencies in an outdoor setting.
To get more information about Hocking College's Ecotourism and Adventure Leadership program, contact program manager Jennifer Johnson by email at johnsonj10298@hocking.edu or by phone at 740-753-6279.