NELSONVILLE, OHIO — The Hocking College women's basketball team (0-9) hosted the Ohio University-Lancaster Cougars (14-4) Wednesday night, Jan. 22, but lost, 91-62, in spite of a superlative performance from freshman forward Jasmine Manuel.
The Hawks came out firing early, keeping the game close in the first quarter, but they were unable to get the lead back after starting the game with a 4-0 advantage.
Manuel finish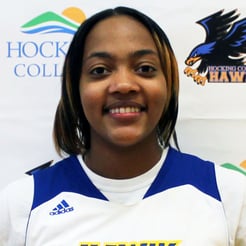 ed the game with a 32 points — 18 in the first half and 14 after halftime — and 8 rebounds. She shot 48.1% from the field, and knocked down both 3-pointers she attempted. Her career night was the fifth best single-game scoring performance in the five year history of Hocking women's basketball.
Freshman point guard Jada Lazaro added 19 points for the Hawks, as well as 8 assists and 6 steals providing a strong all-around performance. Statistically, Hocking was able to keep pace with the Cougars in steals and blocks. Hocking recorded 8 steals and 4 blocks, while the Cougars had 12 steals and 7 blocks.
The Cougars had six players score in double digits, with Chloe Davis contributing a team-high 17 points. Davis started the game hot, scoring 11 of her 17 points in the first half. She finished the game with a double-double, going 7-for-12 from the floor as well as adding 10 rebounds.
Olivia Daniels registered a double-double of her own for the Cougars, snagging 15 rebounds and adding 15 points. She contributed 5 steals as well, putting her halfway to a triple-double on the night. Daniels finished the game shooting 53.8% from the floor, going 7-for-13.
The Hawks next will travel to Cuyahoga Community College on Saturday, Jan. 25 for a 1 p.m. tip off against the Triceratops. This will be the first of three straight away games for the Hawks. They return home Saturday, Feb. 1, to host a men's and women's doubleheader against Lorain County Community College. Women's tip-off is at 1 p.m. followed by the men at 3 p.m.
By: Johnny Buck, Hocking Athletics