Hocking College's new eSports coach, Mark Riley, hopes to take the team to the next level this season.
About the Coach
Riley grew up nearby in Athens, Ohio, and attended Alexander High School. While in high school, he began taking classes at Hocking College and eventually earned his bachelor's and master's degrees from Ohio University. Riley began teaching at Hocking College part-time in 2014 until he became the Cybersecurity and Network Systems program manager in 2019.
What drew him into the eSports world? Two things he loves: sports and technology!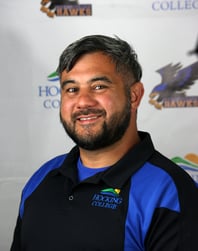 Riley said that he never saw himself becoming a coach. "I've always been a video gamer and got into PC gaming by building high-end gaming machines for people. I've always followed video games and the emerging eSports industry. I was excited when Hocking College added eSports to their Athletics program in 2019."
Although Riley doesn't have a background in coaching, he stated that his background in teaching helps him coach the team towards their main goal.
"[I expect] academic excellence in the classroom from all my student-athletes. Since we are only in our 3rd year, I want us to continue to build the program and increase the number of students we have participating. I would also like my team to be involved in the campus community as well as the surrounding Nelsonville community."
Hocking College offers two eSports teams: Overwatch and Rocket League. In order to succeed in one or both, Riley said that students should be able to communicate effectively, strategize and be able to problem-solve. However, if you're on the fence about joining the team, Riley says that they welcome gamers of all skill levels.
About the Team

The Hocking College eSports team live-streams most of their matches on their Twitch channel: https://www.twitch.tv/hockingcollegehawks
The eSports program at Hocking College is a member of two national collegiate level conferences; the National Junior College Athletic Association Esports (NJCAAE) and the New England Collegiate Conference (NECC).
eSports athletes at Hocking College can major in anything from Culinary Arts to Natural Resources Law Enforcement, to Cybersecurity and Network Systems. The team is open to any student who meets the school's student-athlete academic requirements.
About the Competition
The Hawks take competition seriously, and eSports athletes are expected to put in the time to practice and improve their skills. As a testament to the team's competitiveness, in the fall of 2020, the Overwatch team made it to the national playoffs for the NJCAAE. They narrowly lost in a tight match to advance to the grand finals, ending in 4th place overall. In the spring season of 2021, the Overwatch team had an undefeated 4-0 record.
The team takes great pride in the fact that several of their players were brand new to PC gaming – and through their program and training, in connection with their hard work and dedication – are now competing and winning at the national level against collegiate teams composed of lifelong PC players.
If you're interested in joining the team or want to know more information, please contact head coach Mark Riley at rileym24177@hocking.edu or 740-753-7209.