Hocking College's Men's Basketball team is off to a 12-0 start and ranked #17 in the nation in Division II of the NJCAA. This is the best start to the season in school history. The team is averaging 96.6 points per game, which currently ranks 6th in the country. They are only allowing 63.9 points per game, good for 11th in the country, which is an average scoring margin of 32.7 points per game.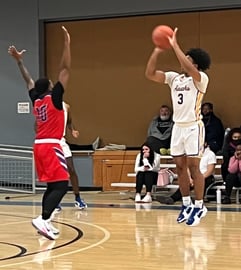 Trevell Adams is currently ranked second in the country in scoring (NJCAA) at 27.1 points per game. So far this season, Adams has been named twice as the Ohio Community College Athletic Conference (OCCAC) Player of the Week. He is currently the leading scorer in the conference. In addition to Adams, the Hawks have ten players that average at least 5.0 points per game.
This team doesn't leave their success on the court, they carry it with them into the classroom. The men's basketball team earned a 3.08 team GPA for the autumn semester. Eight out of 15 Hawks had a 3.0 GPA or higher and four had over a 3.8 GPA, which will land them on Hocking College's Dean's List as well as the OCCAC All-Academic Team. The four Hawks with over a 3.8 GPA for the autumn semester are Trevell Adams, Jeff Aime, Jack Hendricks and James Moore.
The Hawks will finish out 2021 with one more game on Saturday, December 18 at 1 p.m. against
Potomac State College. After the new year, the team begins OCCAC conference play on Wednesday, January 5 against Terra State Community College. Keep up with the Hawks by checking out the full men's basketball schedule on our athletics website.
About Hocking College Athletics
Hocking College is one of the few junior colleges in Ohio to offer athletics. The two-year community college currently offers thirteen men's, women's and co-ed sports, with more on the way in 2022. The Hawks have had many players continue on to play at four-year institutions in the NCAA. If you are interested in continuing your basketball career after high school, fill out the recruit me form on our athletics website.