LeeAnn Rahe always knew that one day she wanted to pursue a career in healthcare-preferably as a medical laboratory technician.
Unfortunately, for years two significant obstacles stood in the way of her pursuing that dream: her secure-yet unfulfilling-job as a military contractor and the lack of no MLT degree programs near where she lived.
Although Rahe had worked there for 10 years, her job had begun to feel like a black hole that was leaving her feeling utterly defeated. Rahe didn't think she could leave her contractor job "because the pay was very good for someone with no college degree."
However, her dream of working in healthcare was revitalized in 2019 when she learned that Hocking College was starting an MLT program.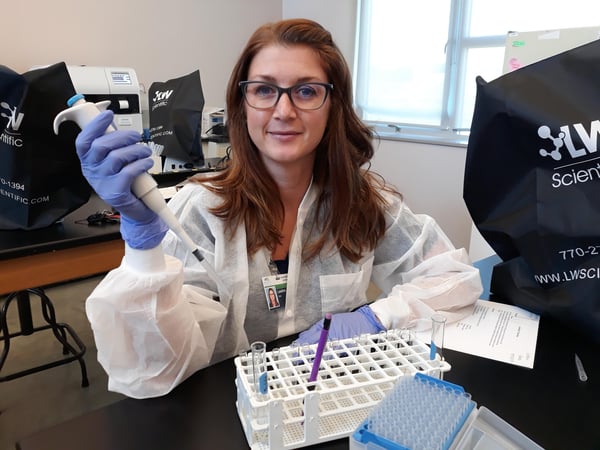 Rahe immediately contacted the college to begin the application process.
While she admits that some of her classes were challenging, she said her instructors were always available to provide her with the tools and resources she needed to cover each subject in great depth.
One of the instructors Rahe leaned on for support was MLT Program Manager Kim Ephlin.
She said Ephlin "was always there for me and encouraged me to study harder and never give up" when obstacles and personal challenges arose.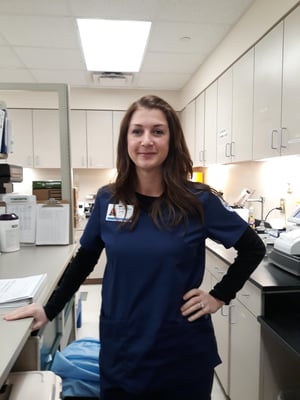 Rahe also valued the hands-on work experience she obtained through her clinical classes during her second and third semesters. In particular, she recalled how impressed the hospital staff was by her preparedness and professionalism.
Rahe is nearly ready to start her last round of clinical classes before graduating from Hocking College. In addition, she and her family have moved out of state, where she's already accepted a job in an industry she only once dreamed of working in.
Rahe said she "would absolutely recommend this program to other people interested in the healthcare industry."
Is becoming an MLT the right career for you?
Medical laboratory technicians are the laboratory's generalists. They are trained in a two-year associate degree program at a community college, hospital, trade or vocational school, and work under the supervision of pathologists or laboratory technologists/scientists.
The U.S. Bureau of Labor Statistics projects that the employment of medical laboratory technicians and scientists will increase by 16% through the year 2024.
What primary tasks do MLTs perform?
MLTs determine how a patient's organ systems are functioning by analyzing their proteins and enzymes.

MLTs use blood cells to assess if a patient has a bacterial or viral infection, leukemia or anemias.

MLTs examine the following microorganism area: bacteria, fungus, parasites and viruses to determine which one of these may be responsible for and infection.

MLTs help determine a patient's blood type, which can minimize risk factors posed by a transfusion.
How in demand are MLT?
There's currently a nationwide-shortage of working laboratory professionals.
According to the latest bi-annual survey performed by the American Society for Clinical Pathology, laboratory professions are seeing a range of vacancy rates, from about 5% for anatomic pathology departments to roughly 9% for chemistry departments.
More about Hocking College's MLT program…
Students who enroll in Hocking College's medical lab technician program can obtain their Associate of Applied Science in Laboratory Sciences in only two years. The program provides students with the skills they need to collect samples and perform tests to analyze blood and bodily fluids. Students also participate in practicums at local medical laboratories.
How do I qualify for this program?
For entrance into Hocking College's MLT program, students need a high school transcript or GED, complete both the first semester courses and the TEAS V exam, a physical and have up-to-date immunization and vaccinations.
Some of the other benchmarks prospective students need to meet:
Orientation session

Drug screen

Background check

Complete core curriculum with at least a 2.5 GPA
To participate in a medical laboratory science educational program, students must be able to comply with program-designated essential functions or request reasonable accommodations to execute them. The essential functions are:
Demonstrate sound intellect

Have good organizational skills

Be an effective problem-solver.

Possess good motor skills

Have good eye-hand coordination

Demonstrate good dexterity

Possess a strong set of ethics

Have effective communication skills

Have critical thinking skills

Possess visual acuity to perform macroscopic and microscopic analyses or read procedures, graphs, etc.

Be computer literate

Be able to work independently

Be able to manage time efficiently

Be able to comprehend, analyze and synthesize various materials

Hold sound psychological health and stability.
Where Can I Get More Information about Hocking College's MLT program?
Potential students interested in this program should contact the MLT Program Manager
Kimberly Ephlin, MHA/ED, MT(ASCP), RMA(AMT), MA: