Today kicks off National Nurses Week, which the American Nurses Association (ANA) has dubbed May 6-12 of each year. Other celebratory days that fall during this week include National Student Nurses Day (May 8) and National School Nurse Day, which is celebrated on the Wednesday within National Nurses Week.
How Did National Nurses Week Begin?
In 1982, President Ronald Reagan signed a proclamation on March 25 proclaiming "National Recognition Day for Nurses" to be on May 6. In 1990, the ANA Board of Directors expanded the recognition of nurses to a week-long celebration, declaring May 6-12 National Nurses Week, which later became permanent dates in all subsequent years.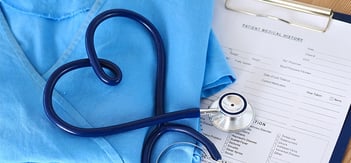 What is the American Nurses Association (ANA)?
The ANA is the primary organization supporting and representing the interests of the nursing profession since 1896. They represent the nation's 4 million registered nurses and are at the forefront of improving the quality of health care.
How Can I Celebrate?
There are several ways for all to celebrate the week, such as:
Wearing it.

Nurses can wear a RN pin or their uniform during the week.
Saying thank you. Send a thank you card to show those nurses how much they do for patients and how important they are to the organization.
Showing your appreciation. Print and distribute this certificate of appreciation to show them how much you appreciate them.
Creating a special display. Work with local hospitals, schools, and libraries to set up a special display using promotional materials, such as banners, posters, etc.
Inviting a politician. Invite a local or state politician to accompany one of the nurses while they are on the job. Health care remains an important issue to voters, and politicians should be visible and accountable for their positions on health care.
Hosting a celebration. Hold a special celebration or reception to recognize those nurses in your community for heroic acts, advocacy, years of service, exemplary courage, or commitment to the profession.
Can I Become A Member Of The ANA?
Nurses can become a member of the ANA for a fee of $25 a year. Those members will receive certification discounts and networking opportunities, as well as other benefits like:
Advancing their career with free development resources and webinars;
Staying current with the most up-to-date nursing news;
Saving money with big discounts on CE, certification, publications and more;
Networking and connecting with Registered Nurses (RN) for support and advice;
Making their voice be heard with opportunities to tell policymakers what they think;
Receiving state nurse association member benefits.
I'm Interested In Becoming A Nurse. Where Should I Start?
Looking into Hocking College's School of Nursing is a great first step into a rewarding career. Hocking's program offers hands-on, real-world and clinical experience. Hocking offers an Associate of Applied Science in Nursing that will make any student fully qualified to take the National Council of Licensure Examination for Registered Nurses (NCLEX RN) in Ohio. Some additional advantages of enrolling in Hocking College's nursing program includes:
Smaller class sizes which gives students more one-on-one time with the their instructors.

Clinical experience by working in local hospitals, long-term care facilities, home health care agencies, schools, clinics and camps all located within a 75-mile radius from the college.

Students will be able to help shape their own individualized academic success plans.

Hocking offers students a payment plan option to help them pay for their education in manageable installments.

Currently, the estimated course fees to obtain an Associate of Applied Science in Nursing degree are $2,621.

Dedicated students can receive their Associate of Applied Science in Nursing degree in only four semesters.