Has anyone you cared about ever been in a serious accident that left them temporally immobilized or with limited mobility? Did they have a lengthy recovery process that eventually helped them get back on their feet again? The chances are that one of the people instrumental in helping your loved was a physical therapist.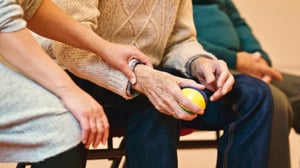 Physical Therapy is a "branch of rehabilitative health that uses specially designed exercises and equipment to help patients regain or improve their physical abilities. Abbreviated PT, it is appropriate for many types of patients, from infants born with musculoskeletal birth defects, to adults suffering from sciatica or the after-effects of injury or surgery, to elderly post-stroke patients."
The purpose of National Physical Therapy Month is to celebrate this profession and acknowledge the contributions these professionals make by helping their patients overcome physical pain, address mobility issues, and live healthier, more active, lives.
When did National Physical Therapy Month begin?
In 1981, the American Physical Therapy Association created National Physical Therapy Month to increase awareness of this career path and understanding of this therapy's ability to improve people's quality of life without using potentially addictive medications.
What are the benefits of physical therapy?
Improve your memory.

Increase your brain functions.

Protects you against several chronic diseases.

Helps people with weight management issues.

Lowers blood pressure.

Improves your heart health.

Improves your quality of sleep.

Reduces feelings of anxiety and depression.

Combats cancer-related fatigue.

Improves your joint pain and stiffness.

Maintains your muscle strength and balance.

Increases your life span.
How can I get into this profession?
Hocking College in Nelsonville, Ohio, has a physical therapy assistant program. Students can graduate with an Associate of Applied Science in Physical Therapy Assistant degree in only two years.
What are the duties of a PTA?
Physical therapy assistants perform the following duties:
Assist patients in regaining movement and managing pain.

Observe and document their patient's recovery process.

Educate the patient's family about their treatment and recovery process.

Assist the physical therapist in a patient's treatment planning process.

Perform therapeutic massage techniques.

Do ultrasound therapy.

Help rehabilitate amputees.

Make patients aware of symptoms that indicate changes that need to be made in their therapy.
Where can PTAs find employment?
Offices of physical, occupational and speech therapists

Hospitals

Physicians' offices

Nursing care facilities



What's the job outlook for PTAs?
According to The U.S. Bureau of Labor Statistics, the following figures represent the job outlook for physical therapy assistants:
2019 Median Pay - $48,990

Number of jobs 2019 - 149,300

Current Job Outlook - Up 29%

Projected Employment Change 2019-29 - 43,000 new positions
For more information on this program, please contact Physical Therapy Assistant Program Manager Mary Ann Simon by email: simonm@hocking.edu or by phone: 740-753-6404 or 740-753-6424
The Physical Therapist Assistant program at Hocking College is accredited by the Commission on Accreditation in Physical Therapy Education (CAPTE), 1111 North Fairfax Street, Alexandria, Virginia 22314.