Start a life-changing journey by becoming a vegetarian this October. You'll quickly be able to see the health benefits of becoming a vegetarian as well as how it is beneficial to the world.
Vegetarian Month was founded in 1977 by the North American Vegetarian Society (NAVS) and endorsed by the International Vegetarian Union in 1978. The goal was to bring awareness to the benefits of being a vegetarian.
Benefits of becoming a vegetarian
As a vegetarian, you are able to eliminate meat from your diet, allowing you to rely on other foods such as whole grain, fruits, vegetables, beans, peas, nuts, and seeds. This is beneficial to your health because it makes your diet richer in fiber, antioxidants, and potassium.
Being on a vegetarian diet can help protect you against type 2 diabetes and certain cancers. Vegetarians also tend to have lower cholesterol than non-vegetarians.
Lots of people also choose to become vegetarian because of their love of animals.
Vegan Vs. Vegetarian
While vegetarians eliminate eating meat, they can still eat dairy items and eggs. Vegans, however, do not eat meat or any type of animal product. This includes things such as items made with animal's skin, blood, fur, etc.
A vegan diet may help you maintain a healthy heart.
Most people don't realize how many seemingly animal-free foods contain small amounts of animal products. A great example is non-fat yogurt and candies often contains gelatin, which is made of animal parts. Another example is that some orange juices are fortified with omega 3 which comes from fish.
recipes to get you started
Check out these great vegetarian/vegan options to get you started on your journey.
Vegan Chocolate Chip Cookies
In a large bowl, whisk together the sugar, brown sugar, salt, and coconut oil until combined.
Whisk in non-dairy milk and vanilla, until all sugar has dissolved and the batter is smooth.
Sift in the flour and baking soda, then fold the mixture with a spatula, being careful not to overmix.
Fold in the chocolate chunks evenly.
Chill the dough for at least 30 minutes.
Preheat oven to 350°F (180°C).
Scoop the dough with an ice cream scoop onto a parchment paper-lined baking sheet. Be sure to leave at least 2 inches of space between cookies and the edges of the pan so cookies can spread evenly.
Bake for 12-15 minutes, or until cookies just begin to brown.
Cool completely.
Enjoy!
Two-Bean Sloppy Joes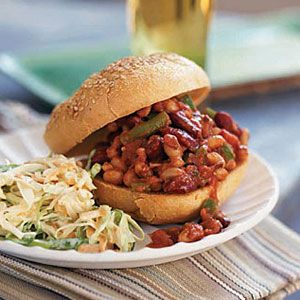 INGREDIENTS
1
can each black-eyed peas and red kidney beans
1 1/2 c.
bottled marinara sauce
1
can no-salt-added diced tomatoes in juice
1/2 c.
each frozen cut green beans and chopped green bell pepper
1 tbsp.
Worcestershire sauce
4
split seeded kaiser or hamburger rolls
Bean Mixture: Bring all ingredients to a boil in a 10- or 12-in. nonstick skillet over medium-high heat. Reduce heat, partially cover skillet and simmer, stirring occasionally, 10 to 15 minutes until green pepper is tender.
Spoon onto roll bottoms; replace tops.
Recipe courtesy of Woman'sDay.
---
About the Author
This blog was written by Ajene Hammonds, a student intern in the Marketing Office at Hocking College. Ajene is in the Business Management & Entrepreneurship program and hopes to go on to a four-year school and eventually get his MBA. Ultimately, he hopes to become a paralegal and start your own business.