Hocking College is pleased to announce the launch of a new Workforce initiative that bridges the gap between local employers and competent, ready-to-work employees.
The initiative is titled Partnership for Advanced Community Engagement (PACE) and it operates as an Earn-and-Learn program that ties education and credentials to designated career paths and employers. With a focus on skills development, credentialing and career pathways, the earn-and-learn model encourages meaningful collaboration between employers, educators and workers. The model minimizes hiring risk for employers and increases efficiency in the workplace. Employees and students benefit from professional growth and wage gain opportunities as well as decreased educational debt loads.
The new program focuses on portable, nationally-recognized industry credentials in a flexible study program, for a variety of different workforce industries including HVAC, Water & Wastewater Management, Electrical, Culinary Arts, Carpentry and Automotive Technology. These programs will be available for students and employers to begin connecting to Hocking College in Spring 2022. To participate, students must be enrolled in one of the college's manufacturing, professional or technical & industrial programs.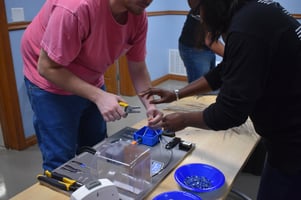 According to the U.S. Department of Labor, successful earn-and-learn (apprenticeship) programs leverage five core components: business involvement, structured on-the-job training, related instruction, rewards for skill gains and a national occupational credential. Nationally recognized "Registered Apprenticeship" programs may be designated as time-based programs (requiring a number of hours of instruction and on-the-job training), competency-based programs (requiring skills competency and proficiency without a time requirement) or may be built using a hybrid approach (using a range of hours and measured competency). Earn-and-learn programming supports efforts to recruit, train, and retain skilled workers across a variety of industries.
Hocking College's PACE Earn-and-Learn Program is structured with flexibility to accommodate industry and student needs. For students, earn-and-learn programming supports purposeful, cost-effective study while providing meaningful and skill-based experiences. Students receive a competitive wage and relevant experience while earning stackable, industry-recognized credentials. For employers, the program provides students who have already demonstrated basic technical knowledge, soft skills and leadership qualities to join their labor force straight away. Through their participation, employers support regional economic and workforce development initiatives, and talent pipelines are strengthened.
An additional facet of Hocking College's PACE program involves supporting pre-apprenticeship opportunities for those interested, including local high school students. A pre-apprenticeship is an opportunity to provide core training and basic technical and job readiness skills in preparation to enter a Registered Apprenticeship program. This added step in the educational offerings of Hocking College means that participating students can select a career path with greater confidence, having already gained the experiences and basic hands-on skills in that industry. The program, which offers direct employer connections to students and schools, also provides participants with even greater career and educational opportunities in the future, whether or not they choose to continue on to higher education.
Spearheading the PACE program at Hocking College is the Director of Workforce Innovation, Amanda Lemke.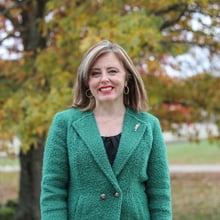 Amanda Lemke came to Hocking College from a career in Government Communications and Community Affairs, where she led efforts for business advocacy and stakeholder collaboration first for the Canal Winchester Area Chamber of Commerce and then the City of Canal Winchester.
In the Summer of 2020, Lemke was compelled to change her career path. She reflected that she "was looking for an opportunity to do something meaningful and impactful". She said: "As I researched opportunities, I came across Hocking College and as I learned more about the school and its mission, I felt compelled to become part of their team." In addition to developing plans and infrastructure for the college's new PACE program, Lemke is also responsible for promoting Workforce programming through participation with business consortiums, chambers of commerce, and similar organizations, coordinating with CCP director and TechPrep coordinator to enhance articulations agreements and alternative educational models and writing and editing content for the monthly School of Workforce Development Newsletter.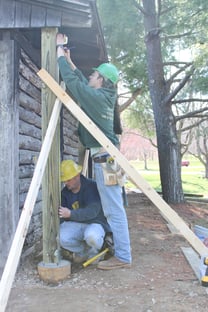 Lemke says that she likes seeking out opportunities for collaborative projects, as well as reviewing labor market data to assist the Dean of Workforce Development with departmental strategic planning. Lemke also savors any networking opportunities that come her way. In particular, she likes working with governmental agencies and industry partners.
Both students and employers will benefit from the partnerships and programs being developed through the efforts of Amanda Lemke and the School of Workforce Development team at Hocking College.
If you would like to get in touch with Amanda Lemke, Director of Workforce Innovation at Hocking College, you can reach her at one of the following:
Lemke holds a Bachelor of Science in Business Administration and a Master of Business Administration, both from Ohio Dominican University.