As summer break approaches, all college students become faced with the same universal dilemma: should they take the summer off, get a summer job, or take summer classes?
The following series of blogs will attempt to address both the pros and cons of each of these scenarios, continuing with the pros and cons of students getting a summer job.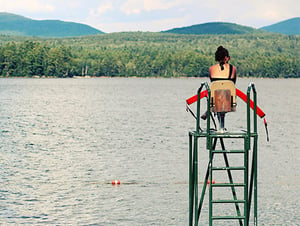 The Pros Of A Summer Job
While working your summer away may not seem so appealing at the time, it does offer several benefits that you wouldn't get otherwise. Below are a few pros from working during your summer.
The job search process will not only improve your interview skills, but also your coping skills with any potential rejections you might face.
It gives you the chance to take a break from college without running the risk of becoming lazy and falling into the "summer slide

."

You'll not only make and save money, but learn

how to budget it as well.

You'll learn new job skills that will make you more marketable once you graduate college and enter the workforce.
You'll experience gratification from working hard and earning your own money.
It can be a great self-esteem builder.
You'll make connections and establish professional relationships that

could become valuable job references in the future.

You'll learn techniques on how to handle any job-related stress issues you might face.
It'll polish up your time management skills.
You'll grow as a person and become more responsible.
You'll learn how to deal with different personality types.
You'll learn the importance of setting personal boundaries and how to keep your private life separate from your work life.
Getting a job over summer break will look impressive on your resume and to future employers.
The Cons Of A Summer Job
While working your summer away does have its benefits, such as making money and personal development, there is a downside to getting a summer job. Below are a few cons about working during your summer break.
If you lack job experience, any position you get offered may not be what you had hoped for.
As a new employee, any requests for days off could potentially be overridden by other employees who have seniority.
You may only be able to start out at minimum wage.
Any summer vacation plans you had may have to be put on hold.
As a seasonal worker, you may have to work a variety of different shifts. Depending on the company, this could mean early morning shifts or late night shifts.
Your schedule may require you to work on weekends, evenings, and holidays.
It will cut into your social life and give you less time to spend with your friends and family.
You might get called in if another employee unexpectedly calls off.
Now that we've listed the pros and cons of working during your summer break, it's now in your hands to decide whether it'll benefit you or not.