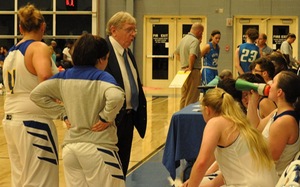 The Lady Hawks traveled to Dayton on Wednesday night for an OCCAC match up against the Tartan Pride of Sinclair Community College. Sinclair came into the game looking to get back on track after falling to Cuyahoga Community College on Saturday. The Tartan Pride came out in a man-to-man full court pressure that jumped started their offense as Sinclair defeated the Hawks 71-29.
"We knew tonight was going to be a tough, physical challenge" said Coach Ron Conner. "We were outmanned tonight. Hats off to Sinclair's players and coaching staff as they came out in a physical man-to-man pressure that we couldn't seem to break."
Sinclair was led in scoring by Doriann Carter with 16 points, followed by Nia Martin with 12. The Tartan Pride had two other players score in double figures, Reanna Dudley had 10 points and Aaryn Evans put up a double-double with 10 points and 15 rebounds.
Hocking was led by Macy McCollister with 11 points, 4 rebounds and 2 assists. She was followed in scoring by Brandy Merritt with 9 points, Jena Cozad added 5 and Alison Bray chipped in 4.
The Hawks will return to OCCAC action on Saturday when they travel to Clark State for a 1 p.m. tip-off.