The Hocking College Collegiate Horsemen's Association (CHA) took 13 students to attend the American Collegiate Horsemen's Association (ACHA) National Convention in Ocala, Florida, from April 6 - April 9.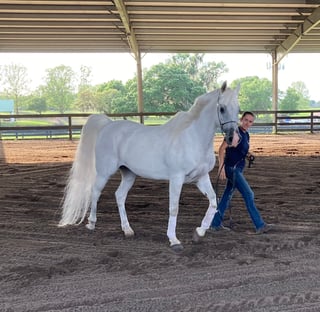 The ACHA is a national organization whose mission "is to unify collegiate horsemen of all levels and disciplines through the promotion of leadership, education, and community services." They host a yearly convention to connect with fellow peers and professionals in the equine industry.
Hocking students had the opportunity to interact with equine professionals and students from other schools, listen to speakers with a wealth of experience in the field, tour horse farms, tour a conditioning and rehabilitation center, as well as The World Equestrian Center. For some students, this was their first experience outside of Ohio and meeting professionals in their field of study. Dr. Debra Powell, Equine Science Program Manager, started the CHA club at the college for "opportunities and exposure to possibilities and getting students out of their comfort zone to experience new things."
Ivy Smith is double majoring in Equine Health and Complementary Therapies and Equine Assisted Services. Smith wasn't expecting the weekend to be as exciting as it was. She thought they'd sit in a lecture hall listening to equine professionals talk all day long. Instead, she experienced a hands-on, interactive weekend that showed her endless opportunities in the equine field.
Smith's favorite part of the convention was the Equine Performance Innovative Center (EPIC). EPIC is a state-of-the-art facility with 30 acres for conditioning, rehabilitation, and sports medicine surgery for canines and horses. Smith loved seeing some of their alternative therapies in action. They watched a horse in the Equine Swimming Pool, toured the Equine Hyperbaric Chamber, and the Aqua Pacer Water Treadmill.
Smith is very interested in alternative therapies and gained so much knowledge from an Arabian Trainer who spoke about massage and using alternative therapies on performance horses. Smith said that experience opened her mind to the many different possibilities out there for helping horses.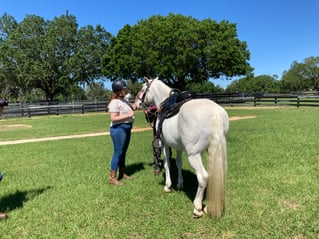 Jenna Cutshaver, a Natural Resources Law Major, enjoyed the tour days, especially the Paso Fino horses at Besilu Collection and EPIC. She also enjoyed meeting students from other schools. A total of 150 students from nine schools were in attendance.
Cutshaver also loved that the convention was an opportunity to network and make connections. She was pleasantly surprised by how kind everyone was and how willing they were to talk to students about career fields and needs in the industry. She hadn't realized the possibilities or the number of different equine types. Before the convention, there were breeds she liked more than others, now she sees the uniqueness of each.
Stephen Crislip, majoring in Equine Teaching and Training, loved Chestnuthill Arabians, the first Arabian center they toured. He liked seeing behind the scenes of the business and training center. The owners of that center had over 30 years of experience and were very open to talking with students about the ins and outs of their business and how they got started. Crislip found this information fascinating and helpful because his ultimate goal is to use therapy horses to help Veterans with PTSD.
Crislip also loved the holistic approach to handling horses. Each horse and each breed is so different. The trainers spoke to students about how to approach horses, manage each horse differently, and learn through trial and error. Crislip also loved how these facilities were helping horses heal from injuries through different therapies instead of putting a horse down.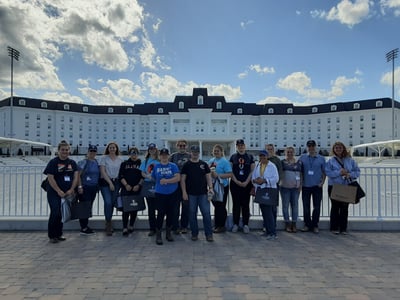 The CHA Chapter at Hocking began in the fall of 2021 for students interested in all aspects of the equine industry. The club wants to enhance students' knowledge of the equine field, develop leadership skills and encourage further scholarship in equine studies. The club also serves the community and incorporates all aspects of the industry by using Hocking College's resources.
The club hosted a Valentine event for local families in February to raise money to help offset the cost of the convention. Students raised $600 while sharing their love of horses with the local community.
The club consists of the following executive leadership positions: President, Vice President, Secretary, and Treasurer. All members must be enrolled as full-time students in any program at Hocking and maintain a 2.0 GPA.
For more information about the different equine programs offered at Hocking College, email the admissions office at admissions@hocking.edu or call admissions at 740-753-7050.