What do Thomas Edison, Martin Luther King Jr., and Warren Buffett all have in common? They were all "T-shaped" professionals.
What is a T-shaped Professional?
Edison is one the best well-known inventors in American history with more than 1,000 U.S. patents to his name; King was the face of the Civil Rights Movement and helped revolutionize America; and Buffett is one of the world's most successful investors with a net worth of over $84 billion. So, what drove these figures to their fame? The fact that they shaped themselves into well-rounded individuals who were knowledgeable in specific subjects, but were also able to communicate across cultures about various ideas. This is the basis of the T-shaped individual.
Now, colleges across the country are working to help shape their students into T-shaped professionals who are ready for employment and have to ability to thrive in the workplace.
What Does the 'T' Stand Represent?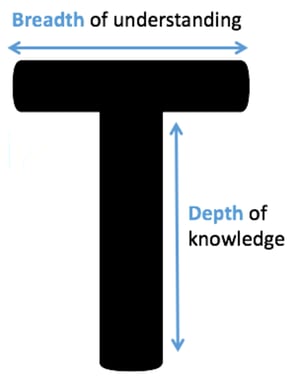 The stem of the T is based on the foundational idea that the student will be well versed in their area of study. They will know its history, variations, and concepts that make it unique compared to other specialties. For example, a student majoring in Biology will learn about Darwin and evolution, cell biology, biochemistry, anatomy and physiology, and other areas that shape its curriculum. Students will demonstrate extensive knowledge about their area of study and how it pertains to society today.
The top of the T, or the horizontal branch, represents the student's ability to share and collaborate with others about their specialty, both verbally and in written form. Students who are T-shaped are also able to make connections between their specialty and other areas. For example, the student majoring in Biology should be able to make connections between Biology and English to deduce how language affects the healthcare system.
A T-shaped individual is able to intermix concepts to shape innovative systems and ideas, and is able to lead large groups of people toward a common goal.
The basic concept of a T-shaped professional is that they are expert problem solvers. These people can merge ideas to develop creative solutions across a variety of challenges.
How is Hocking College Creating T-shaped Professionals?
The best way for students to become T-shaped individuals is to work with professionals who themselves are already T-shaped. At Hocking College, students work in small class sizes with experienced professors who are experts in their fields. This allows for optimal one-on-one time between students and professors.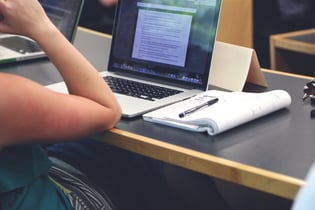 Additionally, Hocking College also offers many internships within the college and with local businesses to allow students the opportunity to work in their area of study before graduation. These partnerships help students to grow in their fields while also working with other professionals who will expose them to real-world problems and encourage them to find creative real-world solutions.
Immersing students into the local community also allows them to develop their skills in communication among cultures. Here, they will learn how to correspond with others about diverse problems faced in Appalachia Ohio, as well as learning how to develop solutions to those problems.
Employers seek T-shaped professionals because they are well-rounded individuals. It is Hocking College's goal to help students grow to become knowledgeable in their fields while becoming well versed in other areas of study.
Along with specializing in their field, Hocking College encourages students to pursue other interests through programs at the Student Center, campus clubs, student government, leisure learning classes, and many other opportunities.
There's no limit to what you can learn and who you can become at Hocking College.