Are you looking for a full-time job that pays well and comes with great benefits? If so, you should consider becoming a water or wastewater operator. Water and wastewater treatment plant and system operators, who averaged an income of $46,150 annually as of May 2017, manage a system of machines to transfer or treat water or wastewater.
Where Can I Get The Training I Need For This Job?
Currently, Water and Wastewater positions are on Ohio's "In Demand" Occupations List and fortunately for those interested in entering this field can get their degree at Hocking College located in Nelsonville, Ohio. In just two years, students can graduate with an Associate of Technical Study in Natural Resources: Major in Water and Wastewater Management degree.
6 Reasons to Get Your Degree at Hocking College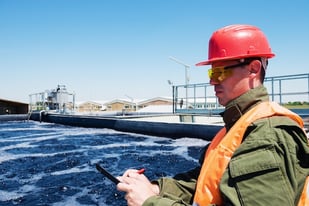 The only thing more important than deciding upon a career path is finding exactly the right school to help you fulfill your professional destiny. Therefore, making the decision to attend Hocking College for this degree will offer students the following advantages:
The program was designed by experienced water and wastewater personnel.
The program is Ohio EPA approved for experience credit as an equivalent to a four-year bachelor's degree.
Half of the courses in the curriculum are offered online.
Students can maximize their marketability by continuing their education.
Students who want to advance in their career can easily get the additional training they need.
Credit by advanced standing is offered to students who currently have an Ohio EPA water or wastewater certification.
How Can I Find Out More About This Program?
Those interested in learning more about Hocking College's Water and Wastewater Management program can do so by visiting the program page, or by contacting the Program Manager, Kelly Barron-Holcomb, directly by email at barron-holcombk@hocking.edu or by phone at (740) 753-6275.