Thirty students and four staff members from the TRiO Talent Search Program embarked on a cultural enrichment trip to Chicago on June 4-6.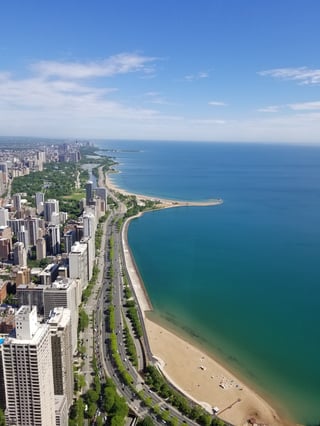 Hocking College's TRiO Director, Molly Watson, alongside Missy Jones (Southern Local Schools), Lynann Bolyard (Trimble Local Schools), and Morgan Hutchison (Tri-County Career Center), coordinated a trip in which they each took 10 students from their schools to Chicago. This trip served as a reward to those students for all the hard work they did throughout the school year.
What Activities Did the
Students Do?
In addition to taking both a bus and riverboat tour, the students and coordinators enjoyed the following attractions during their trip to Chicago:
Navy Pier
Cloud Gate at Millennium Park
Shedd Aquarium
Natural History Museum
360 Chicago
Lincoln Park Zoo
What is TRiO Talent Search?
TRiO Talent Search is a federally funded educational access program which has been awarded to Hocking College since 2002.
The goal of the TRiO Talent Search Program is to provide student-centered support to 600 individuals who are first-generation and/or low-income, and who might not otherwise have the opportunity or personal support to graduate from high school or enroll into post-secondary education.
TRiO Talent Search has coordinators in three area schools, including Trimble Local and Southern Local middle and high schools, as well as Tri-County Career Center. Services include but are not limited to the following:
Assistance with academic support/tutoring
Secondary course selection
FAFSA completion
Scholarships
College admission & test preparation
Campus & career exploration visits
Financial literacy
How is TRiO Funded?
The TRiO Access Program is funded by a grant from the U.S. Department of Education and operates out of Hocking College.
How Can I Get More Information About TRiO?
Students who are interested in TRiO Services can contact TRiO Director, Molly Watson, by email at watsonm10970@hocking.edu or by phone at (740) 753-7159