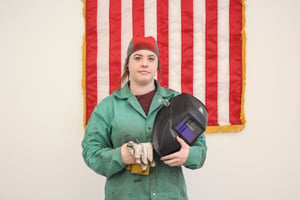 For Victoria Householder, the Advanced Welding Certificate offered at Hocking College was just what she needed to make a change in her life and begin working in a field she has always been passionate about, which for Householder, is cars.
Householder has always liked working with her hands. She spent many afternoons and evenings with her dad in their garage, helping while he worked on various cars.
After graduating from Logan High School in 2013, Householder began working at Buckeye Community Services, a group home for individuals with developmental delays. She's been there for eight years, helping with the daily needs of her clients, such as cooking, cleaning and taking them to appointments.
After seeing how a Facebook friend had completed Hocking College's Advanced Welding Certificate and got a good job, Householder thought this could be something she could do. Especially since she's always enjoyed working with her hands and was good at it. She has also always loved cars.
Householder began the Advanced Welding Certificate at Hocking College in January 2022. She will graduate in May 2022 with her Welding Certificate, along with a variety of other certifications needed for this industry.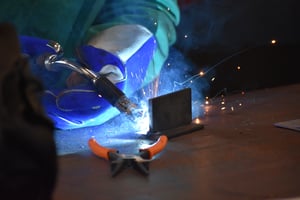 She was nervous in the beginning, being the only woman in her program, but felt included and part of the group from day one. "The one-on-one instruction has been helpful", she says, and she's liked the entire process of melting materials. She's learned certain tips, like breathing techniques for holding equipment steady, to positioning the rod. The hardest part was learning how to read blueprints and understand the symbols for different welds. She hopes to begin her career in the automotive industry doing fabrications.
The Advanced Welding Certificate has a new cohort that starts every semester. Classes are held at the Hocking College Logan Campus, at 30140 Illes Road, Logan, OH. The Welding Lab features state-of-the-art Lincoln welding tools and equipment. This is a comprehensive, beginner-to-advanced training, using a variety of courses, and American Welding Society (AWS) certification models that allow trainees to personalize their training. Courses include ARC, MIG, TIG, soldering, brazing, metallurgy fundamentals, structural stick welding, pipe welding and positioning, and high-pressure pipe and piping systems.
Grant funding is available for those students who qualify through the Ohio Department of Higher Education Short Term Certificate Grant Program. Contact admissions at admissions@hocking.edu or call 740-753-7050 for more information on this and other Hocking College certificates.