Depending on what your career goals are, the academic requirements for jobs in the agroecology field can vary. For instance, those who are interested in becoming an organic farm certification specialist, or an agricultural inspector, should probably pursue an associate degree. However, if you are more interested in a director/ administrative position, more years of formal education are often necessary.
In general, an associate degree is a good place to start if you want to become an agroecologist. Often, two-year programs are rich in field experience opportunities and are community-focused, which are two aspects that are very important in agroecology. An associate degree from a community college, like Hocking College, is a cost-effective way to determine whether this is the field for you. It is functional as a stand-alone degree, and can also be used as a stepping stone to further education should you so desire.
General Education Requirements:
Occupation: Farmer, rancher, or agricultural manager
Minimum: High School Diploma with previous work experience
Recommended: Associate's Degree


Occupation: Urban Agricultural Director, Community Agricultural Director
Minimum: Bachelor's Degree
Recommended: Master's Degree or Ph.D.


Occupation: Agricultural Technician
Minimum: High School Diploma (depending on the position)
Recommended: Associate's Degree


Occupation: Agricultural Inspector, Organic Farm Certification Specialist
Minimum: High School Diploma
Recommended: Associate's Degree

What Courses And Field Experience Do You Need?
The courses involved in agroecology programs cover a wide range of topics, from environmental ethics to animal husbandry. Classes are also very field based. The best way to learn about agroecology is through immersion and experience.
What Are The Physical Requirements?
As one might expect with agricultural work, a profession in agroecology would mean a lo
t of time spent outdoors. Therefore, a certain level of physical fitness and mobility is necessary for some positions within the industry.
However, agroecology is a broad and tolerant field, meaning there are positions available for those with disabilities as well. If you are unable to meet the physical requirements necessary to spend time outdoors in potentially demanding conditions, but are passionate about the study of agroecology, you have options.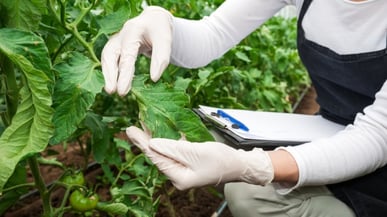 Director positions could be something to pursue. Horticulture, which can be less physically demanding than farming, is also a part of this field.
Cultivating a garden is useful in many capacities, whether it be for food production or simply ornamental.
Involvement in horticultural therapy is also an option, if you're looking for a way to use agriculture to better the lives of people with disabilities.
Anyone looking to fill the requirements to get into this profession need look no further than Hocking College. Hocking College's Argoecology program is designed to help students obtain all the skills and knowledge they need to become successful in this profession.
For further information contact Hocking College's Agroecology Program Manager Sasha Sigetic by email: sigetics@hocking.edu or by phone: (740) 753-6283.