According to the Bureau of Labor Statistics, real estate brokers and sales agents make a median pay of $42,880 and there will be 24,900 new positions in this field waiting to be filled between 2016-2026.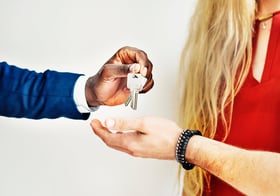 What Duties Do Real Estate
Agents Perform?
Real estate agents perform the following tasks:
Seek out and assist clients who want to buy, sell, and rent properties
Council clients on prices and mortgages
Compare properties and determine competitive market prices
Generate lists of properties that are for sale
Promote the sale of properties through advertisements, hosting open houses, and listing services
Take prospective buyers/renters to see properties
Present offers to sellers for their consideration
Mediate negotiations between the buyer and seller
Ensure that all the terms laid out in the contracts are upheld
Prepare deeds, loyalty contracts, and purchase agreements
What Characteristics Does a Real Estate Agent Need?
According to a recent piece in Real Estate Insider Magazine, the following are nine characteristics that every real estate agent who hopes to be successful needs to have.
Knowledge of the area. It's incredibly important for the agent selling homes to have recent sales experience and success at selling homes in the area. Someone new in town or who has never sold a home is, in many ways, a beginner. Sellers will want to pick an agent that knows the in's and out's of the real estate market they're in, so you'll be better equipped by the knowledge you learn from doing research.
Organizational skills & attention to detail. A real estate agent that is organized and pays attention to detail is an agent that will sell homes. This is especially true in a hard-to-sell market. Great agents know the tiniest change a seller can make to improve the value of their home. They are creative with their Multiple Listing Service (MLS) and take great photographs of each home they're selling.
Well connected. Top real estate agents may work with an established realty agency or other realtors in the area in order to sell the home faster. By making these connections, agents can

come to the seller with a prospective buyers' list.

Tenacity. Sellers want an agent that'll

work hard & won't give up.

They

return client calls promptly, make every appointment on time, and

follow up quickly after the home is shown.
Aggressive but polite. The best realtor is not afraid to speak up. He or she should be just as motivated to sell the home as the sellers are. By being aggressive, the realtor is working hard to put the home in the forefront of the local market. On the other hand, agents don't want to be too aggressive as it can be off-putting to the seller and the buyer.
Good presentation. Sellers look for an agent with a good sense of style, which then gives off a sense of confidence and makes prospective buyers feel at ease.
Tech savvy. An agent that can use technology with ease is going to be more up-to-date on what the market is like. They're also likely to be

more

organized. This is the type of person a seller will want when selling their home.
Honesty. Sellers want an honest agent, one that will tell them like it is even if it's not what they want to hear. An honest agent will lay out exactly what the seller can expect, from the sale price to timing. In the end, honesty will allow the sellers to worry a bit less.
Hardworking. A realtor should appear to be tireless and work hard on the sale of each home.
Where Can I Get the Training I Need to Enter This Field?
Hocking College in Nelsonville, OH offers an online real estate program that allows students to obtain a Certificate of Completion in Real Estate. In one semester, certificate holders will be prepared to take the State of Ohio's real estate exam.
For more information on this program, contact Program Manager, LaDora Ousley at ousleyl@hocking.edu or (740) 753-7062.