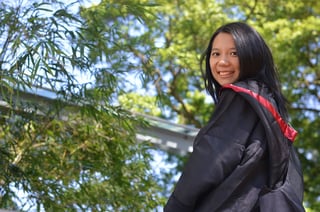 As you graduate from high school and prepare to move on to higher education, you maybe wondering "What is college like?" The first semester of college is an exciting time. This new adventure is a world of opportunity but also has its share of challenges.
By knowing what to expect your first semester, like syllabus shock, getting to know professors, meeting a lot of new people, you'll be better prepared to make your experience as a college student much more enjoyable and beneficial.
Syllabus Shock
Most high school courses don't begin with the teacher handing a syllabus that details every homework assignment, project and test for the entire semester, but that's exactly what happens at the beginning of each college class.
Reading through the first syllabus you receive may seem a little daunting, and a bit more work than you have anticipated. Multiply that by all of the classes you are taking your first semester and it's easy to get overwhelmed, event to the point of paralysis toward doing anything.
The solution to preventing syllabus shock is to take your coursework one assignment at a time. By putting each project, homework assignment and exam in a digital or physical calendar, you'll get a better idea of what you need to do and by when, relieving some of the shock of thinking about all of this work at once.
Academic Anxiety
With few exceptions, you'll find that college means more difficult coursework and a more rigorous assignment schedule than high school. With the impact your academic success has on your chosen career, it can create a great deal of pressure for high academic achievement.
Anxiety and stress are especially common with first-year students as you learn to balance a more challenging course of study. A recent study found that out of 100,000 students treated at student health centers, 61% cited anxiety as a major health concern.
Along with putting assignments and exams on a calendar, creating a homework/study schedule can help ease this academic anxiety. Creating blocks of time dedicated to each course will give you peace of mind that you are adequately preparing for classes while taking it one item at a time.
It's also important to schedule short breaks every 50 minutes to give yourself and your brain needed rest between study sessions.
Meeting New People
From professors and peers in your classes to the extracurricular activities you are part of, you're going to meet a lot of new people in your first semester. This gives you the chance to build new friendships, and provides a different kind of learning opportunity as you come to understand the various backgrounds and cultures of your fellow students.
It takes time to find others with whom you share more than the often superficial connection of taking the same classes. It takes even longer beyond finding them to develop close, meaningful friendships. Special interest clubs, sports and other campus organizations provide opportunities to really get to know other students who share your interests. It also builds connections with upperclassmen who can provide insider information on teachers and classes to either take or avoid.
Getting to Know Professors
Taking the time to get to know your professors is an important aspect of your time in college - even in your first semester. If you are only in class to passively take notes, you'll be missing out on many advantages, including getting additional help with difficult concepts and building a mentorship relationship.
By asking more questions and using office hours, you'll show your professors that you are truly interested in your coursework - and they'll be better able to write you recommendations letters when you graduate.
---
For most, college is a once-in-lifetime opportunity -- and you'll never get to relive the excitement of the first semester a second time. By knowing some of what to expect as you begin, you'll be prepared to succeed and enjoy your personal journey as a new college student.