It's the night before your big interview. Your resume is updated, your portfolio looks beyond impressive, and your appointment for your interview has been confirmed. Now there's only one thing left which is to decide what to wear.
While picking out the right outfit for a job interview might seem like a complicated task, it's really much easier than you think. Here are a few suggestion of what to wear for a job interview for both women and men.
First, deciding what you're going to wear has much to do with the type of business wear the company you're interviewing with advocates. So when you're making your appointment for the interview, be sure to ask about the company's dress code. It should fall into one of the following four categories:
Business Formal: Women wear business suits with a dressy blouse, or a knee-length dress. Men wear a business suit, dress shirt, and a tie.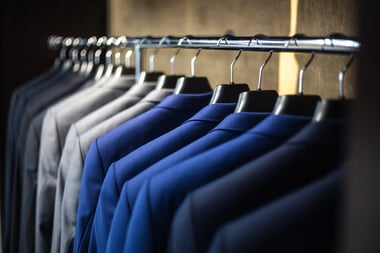 Business Professional: Women wear a pants suit or blazer, or a skirt with a nice blouse. Men wear a suit jacket or blazer, a button-down dress shirt, dress pants, and a tie.
Business Casual: Women and men wear blazers, dress polo shirts, or a casual blouse/button-down shirt, dress pants, or khakis.
Small Business Casual: Women and men wear a blazer, a nice polo shirt, and khakis.
First Interview Attire:
Regardless of the dress code, you should wear something that's simple, looks conservative, and conveys professionalism.
Don't wear anything that might be considered trendy.
Pick out something comfortable that's not too loose or too tight.
Don't choose anything in a loud color.
Select something in either a neutral or dark hue.
Iron anything that has a tendency to wrinkle.
Second Interview Attire:
Dress more formally than you did at your first interview.
Use the attire of the person who interviewed you as your style guide.
Accessory Suggestions:
Men should wear comfortable dress shoes with a coordinating belt.
Women should wear comfortable flats/low heels, and carry a coordinating purse.
Women should wear nude hosiery.
Both sexes should wear a minimal amount of jewelry.
Grooming Suggestions:
Get a professional haircut. Women should wear their hair out of their face. Men with long hair should have it neatly tied back.
Men with a mustache and/or beard should have it trimmed.
Have your nails trimmed/manicured.
Use perfume, cologne, or aftershave very sparingly.
Women should wear minimal makeup.
Have some breath mints handy.
If you're a smoker, hold off until after the interview.
Other than your ears, remove any facial piercings you may have.
Right or wrong, how you dress has much to do with what kind of first impression you make on others. And when there's a job opportunity hanging in the balance, you want to make sure that impression is a good one.