For some, the first resume after graduation will be the first they ever create. For others, graduation will be a welcome addition to an already existing resume. Either way, you will want your resume to impress potential employers. Follow these 10 resume tips for graduates to help your resume stand out.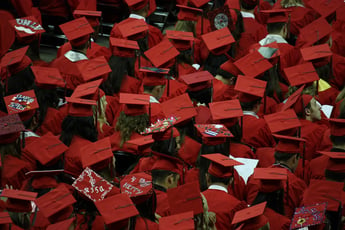 If you still want more help, check out Hocking College's Career Services for resume writing workshops and one-on-one help.
1. Keep It Simple
If this is your first resume, it should be simple, to the point, and highlight the experience you have, no matter how minimal, in the best light. Organize your resume into five sections: your contact information, objective, education, work experience and, listed last, your extracurricular and volunteer activities.
2. Place Your Education at the Top
If you're a recent college graduate whose education has been your primary work over the last two years, keep your education near the top of your resume. Include the name of your school, your major and your minor, along with the month and year you graduated and the degree you earned.
3. Include Your GPA
If your overall GPA is a 3.0 or better, include it with your education information on your resume. If your GPA in your major is higher, use that GPA instead. Also, include any academic honors you may have received, such as being on the Dean's List or earning prestigious fellowships.
4. Have A Professional Email
Your college email may be fun and silly, but you don't want to use it on your professional resume. Make a professional email using Gmail, and add it to the contact section of your resume.
5. Hyperlink Everything
Many jobs you apply to will involve you uploading your resume with an online application. Linking your email address, possibly adding your LinkedIn profile to your resume and adding links to requested samples or portfolio work can go a long way in making your resume stand out in a sea of other resumes angling for the same job.
6. Integrate Keywords
Pay close attention to the words used in the job listing for the position you're applying for, and evaluate other similar applications in your industry. When writing your resume, include those words throughout. Your resume will appear relevant to the job and be more searchable when uploaded online.
7. Make Your Objective Pop
While writing an objective may seem cliche and pointless, it is an excellent way to catch the attention of recruiters. Studies show recruiters take less than six seconds to decide whether a resume is a keeper or one never to view again. Writing an objective that is actionable and relevant, and shows character and personality, can make the difference between your resume being one that gets you a callback or one that they dismiss.
8. Tailor It to the Job
Your resume should reflect the job you're applying for as closely as possible. If you're applying to positions across several industries, you will need to tweak your resume to reflect the needs of those various industries. Include the experience that is most relevant to the job you're applying for, and alter your objective to highlight those skills the job listings mention.
9. List All Your Relevant Experience
Your experience may be lacking if you didn't work much through college. However, whatever experience you do have, from internships and work study to leadership roles in organizations, you will want to feature on your resume.
Any experience that can highlight the skills the job is seeking or showcase general qualities like commitment, timeliness and perseverance should be included.
10. Include Your Extracurricular Activities
Participation beyond work can set you apart, especially if the skills you acquired directly associate with your future profession. Choose experiences that best highlight the skills most related to your industry and ones that reflect any management experience you may have had. Also, your volunteer positions can provide valuable insight into your values and your character.
In the end, your resume should be a reflection of the hard work you've been putting into your studies, extracurriculars, and jobs. By following these resume tips for graduates, you can build a well-organized resume that employers will want to look at and will help you stand out in a sea of other recent college grads.