If you enjoy activities like camping, swimming, or having a picnic, then Lake Snowden could be your ideal summer recreation destination.
Located six-miles southwest of Athens and one-mile northeast of Albany, Lake Snowden is a 675-acre recreation park that was first opened to the public in 1972. The lake was then purchased by Hocking College in 1998, and is now home to a variety of wildlife, a Hocking College owned and operated fish hatchery, and the annual Pawpaw Festival.
What Are My Camping Options?
Lake Snowden offers campers 125 total camp sites, 90 of which have electric and another 30 that are primitive. There are four different camping areas to choose from, which include:
Locust Grove

Big Oak

Hickory Camp

Hilltop Camp (Offers hot showers & flushable toilets)
Campers have the option to choose from daily, weekly, monthly or seasonal basis camping, with rates ranging from $33 a day to $180 a week.
What are the Picnic Areas Like?
There are two shelter houses, each great for picnics large or small. Each unit can seat up to 75 people, and includes electricity and restrooms. They can be rented out on a first-come, first-serve basis and are priced the following: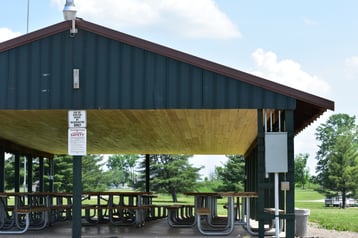 $50 for a weekday
$100 for a weekend
$150 for a holiday
The areas nearby are designated to give visitors room for various recreational activities, including softball, volleyball, and badminton.
What About the Equine Camp & Trails?
Locust Campground features 12.5 miles of trails designated for horses and a 25-site horse camping area. The sites will handle RVs and horse trailers, with electric onsite and water available in the campground. Tie-ups are also available in the area. Rates for this area are the same for any overnight camping/day use and regular camping/day use; however, there is also an additional $3 fee per horse, per day as well.
To learn more about Lake Snowden's rules and the activities, please visit the Lake Snowden page on Hocking College's website.