Each year, on the third Monday in January, is Martin Luther King, Jr. Day, a federal holiday to celebrate the life and achievements of Martin Luther King, Jr.
Who Was Martin Luther King, Jr.?
Martin Luther King, Jr. was a Baptist minister and social activist who led the Civil Rights Movement in the United States from the mid-1950s until his death by assassination in 1968.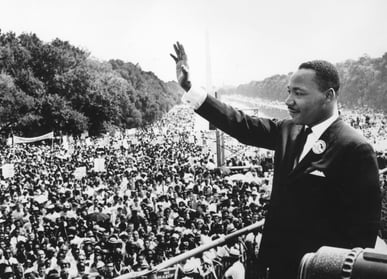 Why Is MLK Day Associated With Service Learning?
In 1994, congress designated MLK Day as a national day of service and charged the Corporation for National and Community Service with leading this effort. MLK Day of Service is intended to empower individuals, strengthen communities, bridge barriers, create solutions to social problems, and move people closer to Dr. King's vision of a beloved community.
Where Can I Volunteer?
There are many ways you can participate in MLK Day of Service, such as joining in on a project already planned in your community, or by developing your own project with family and friends.
Fortunately, students at Hocking College live in a community that offers a wide variety of volunteer opportunities. The list below are places in the surrounding area that accept volunteers.
Opportunities in Albany, Ohio
Opportunities in Athens, Ohio
Opportunities in Logan, Ohio
Opportunities in Nelsonville, Ohio
Opportunities in The Plains, Ohio
Opportunities in Pomeroy, Ohio