Are you planning to pursue an Associate of Applied Science in Fish Management and Aquaculture Sciences degree? If so, below is a list of academic and physical requirements, job perks, career options and the benefits of studying at Hocking College.
What Does a Fish Management & Aquaculture Specialist Do?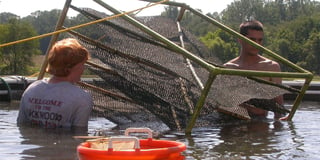 These professionals play a huge part in keeping our ecosystem balanced by monitoring fish populations, regulating their environments, checking for irregularities in water, staying informed regarding environmental laws/regulations and making sure fish habitats are properly maintained. They also make it possible for the fishing industry to remain in business and provide jobs to their millions of employees.
Some of the various other tasks they perform on a regular basis include the following:
Monitor fish breeding habits

Dissect and analyze specimens

Compile and analyze data from commercial fisherman

Stock lakes

Manage invasive animal species

Monitor environmental conditions

Monitor pollution levels

Diagnose parasite infections
What are the Academic and Physical Requirements?
Academic Requirements:
High School diploma or equivalent
Computer experience that includes the following: Microsoft Word, Excel, PowerPoint, and Microsoft Outlook.

Basic math skills

Speech classes

Effective writing skills

Biology classes
Physical Requirements:
Be a good swimmer

Good vision

Physical mobility and

strength
Additional Requirements:
Valid driver's license

Commercial driver's license

Experience operating heavy equipment

Experience operating the following pieces of equipment: High-pressure spray pump, outboard motor, air boats, mud boats, lawn mowers and tractors
What are some of the Job Benefits of Becoming a Fish Management & Aquaculture Specialist?
A median pay of $52,799

Industry growth rates indicate that there'll be 6,300 fish and game warden positions available by 2024

Help promote healthy ecology

The opportunity to help benefit the environment

Typically work in the daytime

Potential job opportunities in all 50 states
What Job Options does this Degree Offer?
Students who graduate with an Associate of Applied Science in Fish Management and Aquaculture Sciences degree from Hocking College will be qualified to fill the following positions:
Entry-level fish technician

Entry-level hatchery technician

Entry-level watershed coordinator

Entry-level fish handler
In addition, graduates of this program can also find employment in county and state water management agencies, state and federal Divisions of Natural Resources and private enterprise aquaculture facilities.
Why Study Fish Management & Aquaculture at Hocking College?
At Hocking College, students in the fish management and aquaculture program will make themselves the recipients of the following benefits:
Students will be able to receive the hand-on training they need to succeed in this field.

The campus includes a fish hatchery and water sampling equipment.

Students will learn about fish culture, health and management.

Students will have environment-oriented classes such as, Pond Nuisance Control, Field Aquatic Ecology and Environmental Chemistry.

Students will have classes such as, English Composition I and Speech to help them improve their communication skills.

Students will learn how to apply for government jobs.

Students will have a CPR and First Aid class.

Hocking College is the only two-year postsecondary school in Ohio to offer residence halls.

Students can obtain their Associate of Applied Science in Fish Management and Aquaculture Sciences degree in only four semesters.
Interested in learning even more about Hocking College's Fish Management & Aquaculture program? Download the eBook today!
For more information on the Fish Management and Aquaculture program, contact the Program Manager, Grant Scholten, by email at scholteng@hocking.edu or by phone at (740) 753-6250.