In the global workforce, effective verbal and non-verbal communication skills are essential survival tools that every business professional needs. However, nothing has the potential to derail a promising business person's career more so than poor writing skills.
Whether you're composing an email, letter, company report, presentation slides, case studies, sales material, visual aids or social media updates, you need to be able to write in a manner that's clear, precise, and free of errors.
What Are the Writing Style Rules of the Business World?
Specifically, the key to making your written business communications successful hinges on your ability to adhere to the following style rules: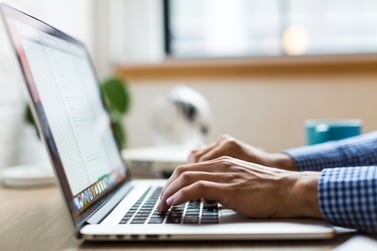 Simplify your language as much as possible
Be direct about the purpose of your communication and what you intend for it to accomplish
Always keep the needs and expectations of your audience in mind when you're composing a business communication
Don't use slang, buzzwords, or jargon
Keep the tone of your communications formal yet conversational
Organize your intentions and present them in an easy step-by-step manner
Remember to use transitions when going from one subject to the next
Always refer to the business you represent as "we"
Minimize long blocks of text by breaking them up into smaller sentences
Always end your business communications on an encouraging note
Why Are Writing Skills Important?
Writing skills are important in the business world for several reasons, including:
The ability to write in a proficient, comprehensive, and an informative manner will be instrumental in helping any written interactions you have with coworkers & clients achieve better results.
Being able to write well will help you formulate, express, and exchange your ideas in a more professional manner.
Any email, memo, or report composed by you that's filled with spelling or grammatical errors reflects poorly on you and your employer.
Good writing skills can help you become more persuasive and assist you in evolving from a lower-level salesperson into a high profile influencer.
Knowing how to properly formulate your words in emails and memos can improve your company's reputation within the entire business community.
Being able to write well can reduce the probability of having your communications be misrepresented or manipulated by your competitors.
The clearer your written instructions are the less likely it will be that any orders you place might be misunderstood.
The ability to write well can help you establish long-term relationships with your customers and expand your market.
Good writers help the companies they work for save money by eliminating the probability of potential written miscommunications between coworkers.
The better your writing skills are the more opportunities you'll get to move up the corporate ladder and get a promotion.
How Can I Become a Business Professional?
If you have aspirations of one day becoming a business professional, perhaps you should consider enrolling in Hocking College's Business & Entrepreneurship program. In only four semesters you could graduate with an Associate of Applied Business in Business Management & Entrepreneurship degree.
For more information on this program, contact Business & Entrepreneurship Program Manager Micah Covert by email at covertm29000@hocking.edu or by phone at (740) 753-7213.