Employees in the Natural Resources (NR) Law Enforcement field are entrusted with the duty of defending some of the most scenic locations on Earth from threats such as poachers and anyone breaking environmental protection laws.
While protecting parks and wildlife is an essential part of being a NR Law Enforcement Officer, these are not the only responsibilities. Park Officers and Wildlife Officers are also obligated to impart eco-friendly strategies, and stress safety precautions to anyone visiting the park they're stationed at.
As a NR Law Enforcement Officer, you'll have the opportunity to introduce visitors to some of the most celebrated outdoor locations in the United States. You'll also have the unique opportunity to primarily work outdoors, and essentially make whatever location you're stationed at your own personal "office."
Where Can I Get the Training I Need to Enter This Field?
Hocking College has a long-standing Natural Resources Law Enforcement Officer program that doesn't require students to meet any pre-requisites. In only four semesters, students can graduate with their Associate of Applied Science in Natural Resources Law Enforcement degree.
What Steps Should I Take in Order to Get a Degree in This Field?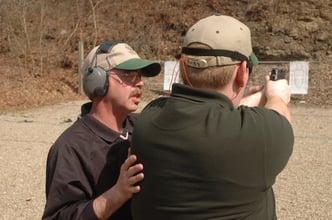 If you're interested in pursuing this career, you should first attend a Hocking College Showcase and select the NR Law Enforcement program as your program of interest. This way you'll be able to view a presentation on the program and get the information you need. Once you learn about the program and are ready to enroll in Hocking, attend a QuickStart so that members from the Admissions Team can get your classes for the program scheduled. Some of those classes include:
Handgun Safety and Proficiency

Information and Technology and Equipment
Criminal Law
NR Administration
Forensic Science
Law Enforcement Management and Operation
NR Fitness (4 Semesters)
How to get Government Jobs
In addition to the above classes, you'll also take Introduction to NR Law Enforcement in which you'll visit 30 offsite locations including Ohio State Parks, wildlife areas, watercraft offices, as well as local, county, state and federal forest and nature preserves.
What Else Can I Do in Order to Further My Education & Career as a Natural Resources Law Enforcement Officer?
Some additional ways to further your education and training in this field may include:
Enrolling in Hocking College's Ohio Peace Office Training program and obtaining your

Ohio Peace Officer Training Academy (OPOTA)

Certificate in only 18 weeks.
Attending a Hocking College job fair and marketing yourself to conduct a practicum work experience.

Establishing professional relationships with your classmates and instructors throughout your academic career.

Maintaining a clean and honorable record, as well as reputation. By doing so will help you secure steady, long-term employment in the industry.
Continue making responsible life decisions and don't get discourage from accomplishing your goal of becoming a well-paid NR Law Enforcement professional.
Anyone interested in finding out more about Hocking College's Natural Resources Law Enforcement program should contact the Program Manager, Ken Temple, by email at tmeplek@hocking.edu or by phone at (740) 753-6276.