Taking a gap year -- basically a year-long break after graduating -- has become increasingly popular. For new college graduates in particular, taking a gap year means putting off getting that first post-college job in favor of traveling, interning, or just relaxing for a year. If you haven't considered this option and want to determine if it's right for you, here's what you need to know about the problems and benefits of taking a gap year.
The Benefits of a Gap Year
These days, the average college student takes six years to graduate from a university, which means many graduates have been in a classroom for nearly 20 years in a row. So why not take a single year off to do what you want before you settle down and start your career? This mentality is what pulls many college graduates toward the idea of a gap year, as they simply want a break.
One of the most common things to do during a gap year is to travel. After all, you might as well see the world now, before you have a job where you have limited time off. If you don't have the travel bug, you might spend the year volunteering, which may give you more clarity about what you want to do with your life.
If you're concerned about your job prospects after college, taking a gap year to complete an internship can give you an advantage when you enter the workforce. Regardless of what you do, your gap year will leave an impact on you, and it can even improve your odds of getting a job after college.
The Drawbacks of Taking Time Off
Despite the many benefits of taking a gap year, it's not right for everyone. For example, if taking a gap year means you're delaying or refusing job opportunities you've been given, it might not be a wise decision. And if you have nothing planned for the gap year and really just want to do nothing for a year, you might regret that choice in the future.
You want to be able to look back and be able to pinpoint what you learned in that year so you have something to show for it, especially when it's time to explain the year off to potential employers once it's over.
Another drawback of a gap year is that instead of making money, you'll be spending it. For this reason, many recent graduates simply can't afford to take a gap year. But if you're intent on taking this route, you may have some options for funding it.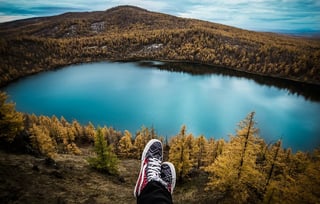 Some students rely on their parents to pay for the gap year, while others work through college so they can save up money for it. If you have a skill you can do from any location, like writing or online tutoring, freelancing can help you pay expenses as you travel. If you go through a program for volunteering or interning, you can ask about funding options.
And if you want to take a gap year once you graduate from a two-year college before studying more at a university, check with the school you plan to attend. Certain colleges not only let you defer enrollment for a year, but also offer financial aid that covers at least some of the costs.
If you're interested in getting a two-year degree in Ohio before taking a gap year, contact Hocking College to learn more about the admissions process, financial aid and how our staff can help you consider your gap year options.