NELSONVILLE—With Robbins Crossing Historical Village closed for the season, Hocking College Construction Management Carpentry students recently got a chance for some hands-on experience before leaving campus for the semester.
Students in the Basic Framing class were given the task of putting a new roof on the McInturf Schoolhouse. Of Robbins Crossing's eight buildings, the schoolhouse is one of six historic buildings moved to the site.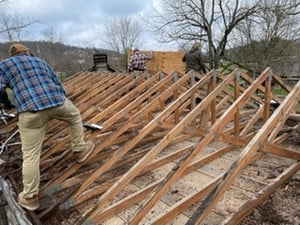 During the five day project, the students removed the cabin's cedar shake roof and roof sheathing. They repaired water-damaged rafters and installed new sheathing, facia board and synthetic cedar shake.
"While they cost more than traditional roofing materials, shingles and metal, the synthetic material will prove the aesthetics of the natural wooden shakes keeping with the authentic feel of Robbins Crossing," Adam Fowler, Hocking College's Construction Management Carpentry program manager said. "At the same time, they'll be a quality roofing material that will last at least twice as long as the natural material."
Fowler estimated that having students do the five-day job saved the college at least $2,000 in labor costs. Plus, it gave students hands-on experience in situations as they'd find on a real-world construction site.
"Working on water-damaged materials and structurally reinforcing and repairing them is common in the field," Fowler said. "It's a necessary skill to have, but it's nearly impossible to match in a lab setting."
The age of the structure, built in 1850, also presented some challenges to the students, Fowler said.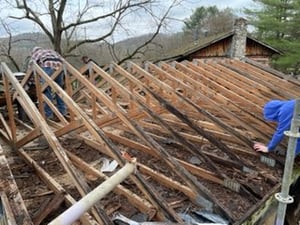 Like any old building, the schoolhouse has settled over the years, and the hand-hewn logs that make up the cabin mean no two walls are the same size or height, causing the roof to be out of square by several inches.
Fowler said the project gave students valuable experience in learning how to repair a roof when situations aren't ideal, how to assemble and work on scaffolding surrounding a worksite, and the shakes' unique installation requirements.
Dean of Hocking College's School of Natural Resources Dr. Dan Kelley says the Construction Management Carpentry students will get more chances at real-world work at Robbins Crossing.
"There is a plan for them to continue to do this work for more cabins around the village," Kelley said. Students in Parks and Museum Education and Agroecology programs — both of which are School of Natural Resouces programs — oversee the day-to-day operations of Robbins Crossing.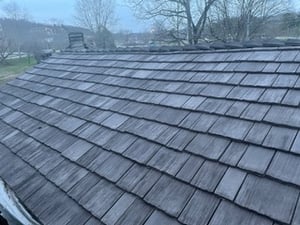 "Like many of the self-performed projects around campus, this type of partnership allows for our students to gain valuable experience while also allowing us to find a cost-effective solution," Kelley added.
"A good roof on these cabins will protect them from the elements and thus preserve the rest of the cabin for many decades to come," he said.
Robbins is scheduled to reopen in late June. Follow them on Facebook to keep up with the village's latest happenings and find out when classes and demonstrations will take place.
MORE ABOUT THE CONSTRUCTION MANAGEMENT PROGRAM
Hocking College's Construction Management program offers students the chance to graduate with an Associate of Technical Study in Construction Management-Carpentry degree in only two years.
Students get the opportunity to get specialized training in Occupational Safety & Health Administration (OSHA) enforced safety standards, local and federal government regulations, and how to create and execute an OSHA-approved safety program. They will also have the option to earn forklift and scissor lift certifications and an OSHA Construction Safety 30 Hour Card.
Since 2018, Hocking College has been in a partnership with the Ohio Carpenters Joint Apprenticeship and Training Trust Fund. This partnership incorporates Hocking College's existing carpentry program with the Apprenticeship Fund's apprentice training cycle.
Students who take advantage of this partnership between Hocking College and the Apprenticeship Fund will receive the following opportunities:
Access to on-the-job training including hours towards the apprenticeship

Professional journeymen as instructors

Job placement assistance

Pathways to joining a union

Networking opportunities
For more information on Hocking College's Construction Management program contact Program Manager Adam Fowler by email at fowlera18289@hocking.edu or phone at 740-753-6357.