NELSONVILLE, Ohio—Growing up in his father's restaurants in Germany, a career in culinary arts was a pretty much a foregone conclusion for Chef Enzo Sclama.
"There was no question," the Hocking College culinary arts instructor said.
After more than 35 years of working in the kitchens of hotels, restaurants, country clubs and catering services -- and winning awards nationally and internationally -- the certified master chef made the transition to education, joining the faculty of Hocking College in August 2013.
Now, seven years later, he's being feted with awards again.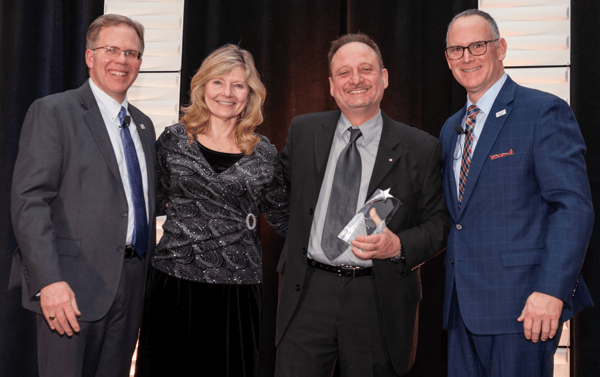 In mid-January, Sclama received the 2019 President's Award from the Columbus Chapter of the American Culinary Federation. In late February, he was voted the 2020 Outstanding Educator of the Year by the Ohio Restaurant Association.
Both awards recognize Sclama's work not just with Hocking College students but with high school students as a judge and mentor at ProStart, Family, Career and Community Leaders of America and SkillsUSA competitions. He also serves on advisory panels for vocational and culinary schools.
Sclama said the awards are more of tribute to the work he puts in with ProStart, FCCLA and SkillsUSA.
"I spend a lot of weekends being a mentor and support for those young people that are trying to get into the culinary and hospitality professions," he said.
"I do really like giving back and working with young people," Sclama said. "Bringing more than 30 years of experience to those students and to the college, you can help students make the transition from college to work-life somewhat more real because you still know what's going on out in the world."
Sclama's decades of real-world experience are one of the keys to his success as an educator.
"That's a good thing to have people who have some industry experience behind their back and show students what it's really like out there, so it's not just straight out of the book," he said.
Born to Cook
Sclama was born in Germany to an Italian father and German mother.
Cooking and hospitality were everywhere in his life, whether in his father's restaurants or visiting his grandparents in Italy.
"My whole family form my father's side and my mother's side were both in the restaurant and hospitality industry," Sclama said.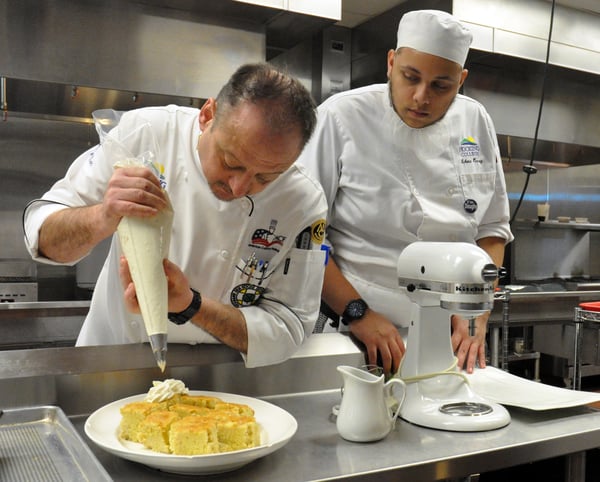 "The farthest back I can remember is playing in the dough and the sugar and the flour and helping my dad doing this or that and butchering," he said.
That exposure set him on a course to becoming a chef and eventually receiving his master chef certification in Germany.
As the years wore on, Sclama decided it was time for a change.
"We all know the culinary industry is kind of grueling," Sclama said, citing seven-day workweeks of 12-14 hours days. "After more than 30 years in the business and being over 50, you have to decide what to do."
Sclama weighed multiple options: working in sales, or going into a corporate environment.
"Luckily for me, I chose the right option, which is education," he said. "For me, personally, education is mentally rewarding."
"Financially maybe not so much," he added with a smile.
The rewards for Sclama have changed with time.
"When you're young, you want to do things that you're instantly gratified by. You want to show your possibilities and your skills and what you have learned. You want to display that to the public and much you can," he explained.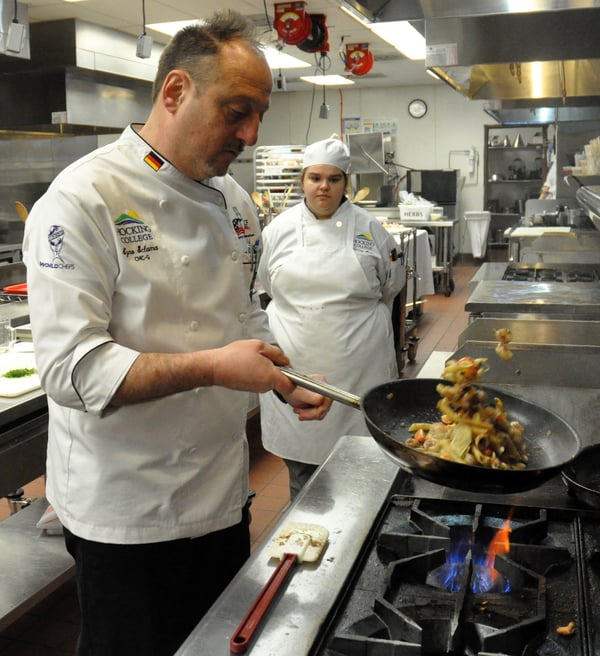 For Sclama, the right life-work balance is now more important to him.
"Teaching helps you do that, and plus, it's rewarding bringing all that experience to the students."
"Across all cultures, across all religions, everybody has to eat," Sclama said. "Nothing matters when you eat. No religion. No Politics. Of course, politics will be handled, religion will be handled around the table. That's not bad. But eating brings people together from all sorts of ethnic backgrounds. It breaks barriers, in my opinion, food and drink, sitting together around a table and enjoying good food brings cultures together and can bring walls down."
That passion and knowledge for food that started as a child Germany and has continued as an award-winning master chef in America are what Chef Enzo — as he's known around campus — passes on to his students every day, so they can go out and bring walls down.
Want to learn from Chef Enzo and the other great culinary arts instructors at Hocking College?
Hocking College in Nelsonville, Ohio has a program that offers students the chance to obtain an Associate of Applied Business in Culinary Arts in only two years.
To find out more about the program, visit the Hocking College's Culinary Arts program page online, or contact the Culinary Arts Program Manager, Susanna Krutsch by email at krutschs@hocking.edu or by phone at 740-753-7608.