Would you like to learn how to code, but assume you don't have the background to learn this skill? This December you have the perfect opportunity to face your fears thanks to the Hour of Code.
What is the Hour of Code?
In accordance with Computer Science Education Week (December 3-9), the Hour of Code is a one-hour introduction to computer science which encourages everyone to learn the basics of coding.
However, what started out as a grassroots campaign has now developed into a worldwide event that is now encouraged by 200,000 educators. It's also supported by partners like Apple, Amazon, Boys & Girls Clubs of America, and Microsoft.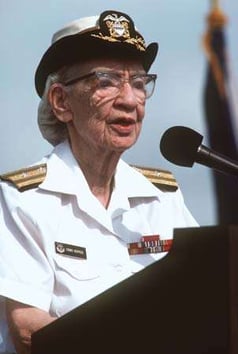 This event is also an opportunity to recognize the birthday (Dec. 9) of trailblazing computer programmer, Admiral Grace Murray Hopper (1906-1992).
Who was Admiral Grace Murray Hopper?
Hopper was a decorated naval officer and computer science pioneer. She was also one of the first of three original computer programmers, and was a key figure in the development of computer languages.
A graduate of both Yale University and Vassar College, Hopper was also the recipient of the Presidential Medal of Freedom, the National Medal of Technology and Innovation, and the IEEE Emanuel R. Piore Award.
Where's a Good Place For Beginners In Coding to Start?
Anyone new to coding should visit the website Code. Here you'll find a selection of easy-to-follow tutorials that are suitable for anyone from children in kindergarten to senior citizens. In fact, two holiday-themed coding videos can be tried here and here, so go ahead and give it a try!
How Do I Participate in the Hour of Code?
If you're an experienced coder, you can host your own Hour of Code event by visiting the Hour of Code's How-To page. There you'll find all the information you need to host an event at home, school, a non-profit organization or even at work.
In addition, you'll find suggestions on how to reach the following goals:
How to promote your Hour of Code event
How to choose the right instructional videos
How to determine what your technology needs will be
How to choose a potential speaker for your event
Are You Ready to Turn Your Passion For Technology Into a Career?
Do you enjoy working with computers and are interested in obtaining the skills you'd need to break into the computer science industry? Would you like to follow a career path that has job security? If so, then perhaps you should consider enrolling in one of Hocking College's Computer Science programs.
In only four semesters, you can obtain either your Associate of Applied Science in Cybersecurity and Network Systems Technology, or your Associate of Applied Science in Website and Applications Development. No matter which program you choose, you'll be on your way to securing a position in a prosperous and profitable industry.
What's the Industry Look Like For a Job in Computer Science?
According to the Bureau of Labor Statistics, the following stats represent the median pay and number of job prospects anyone going into the computer science field can anticipate. These stats include:
Qualified cybersecurity and web developers are currently in high demand
Information security analysts currently make a median pay of $95,510
By 2026, there will be over 28,000 new information security analyst positions waiting to be filled
Web developers currently make a median pay of $67,990
By 2026, there'll be over 24,000 new web developer positions waiting to be filled
---
For more information on Hocking College's Website and Application Development, contact Website and Applications Development Program Manager, Tasha Penwell, at penwellt31810@hocking.edu or by phone at 740-753-7181.
For more information on Hocking College's Cybersecurity and Network Systems Program, contact Cybersecurity and Network Systems Program Manager, Mark Riley at rileym24177@hocking.edu or by phone at 740-753-7209.