Last month three representatives from The Davey Tree Expert Company visited Hocking College to make a donation to the school's Forestry Club.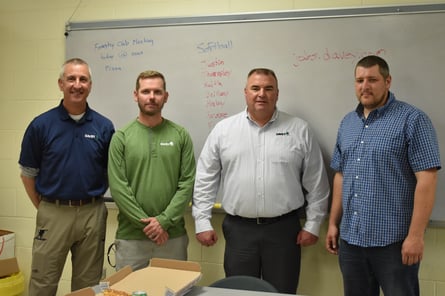 Mark Noark (Sales Arborist), Kris Bruestle (District Manager), and Jeff Crites (Operations Manager) presented to the Forestry Club Secretary, Chelsie Kotlar, with a check for $2,000.
The funds were used to help pay for the expenses of the club's western forests trip which took place from May 3-19.
The presentation took place in room #213 of the Natural Resources building on the Hocking College campus. Also in attendance were members of the Forestry Club and their faculty advisor, James Downs.
Davey Tree's donation marks the third time this company has helped fund a trip made by Hocking College's Forestry Club.
What Was the Trip the Forestry Club Took?
Students from the Forestry Club embarked on a trip to several state & national parks, including the Grand Canyon National Park, the Sierra Nevada mountain range, and Yellowstone National Park to name a few.
Why Did They Donate to Hocking College?
Crites and Bruestle are Hocking College alumni and always enjoy the opportunity to revisit their alma mater. Crites graduated in 1985 and Bruestle graduated in 1998.
Crites stated that "it felt great to give back" to the institution that provided him with the skills and knowledge he needed to be able to rise through the ranks at Davey Tree.
His 30+ years experience with Davey Tree began in 1986 when Crites started working for the company as a lawn care technician. He eventually moved onto job titles such as tree care foreman, sales arborist, and district manager. Then in 2018, Crites was promoted to his current position as Operations Manager for the companies Midwest and Eastern Great Lakes Region.
What Does the Davey Tree Expert Company Do?
Established in 1880, The Davey Tree Expert Company is headquartered in Kent, OH and specialize in tree care, grounds maintenance, and provide environmental consulting services for residential, commercial and government clients. They are also one of the largest employee-owned companies in the U.S. and currently have over 9,000 employees.
Is Davey Tree Currently Hiring?
Crites shared that Davey Tree currently has positions available that can be filled by anyone who has a background in tree care and urban forestry who also "likes to climb and isn't afraid of heights."
Noark also discussed the security factor that comes from working in the tree care/urban forestry industry. He specified that while climbing trees for a living is definitely not for everyone, anyone who possesses this highly in-demand skill will rarely find themselves unemployed. He added that, "by doing what others aren't doing means you'll always be working."
Where Can I Get a Degree in the Tree Care Industry?
Hocking College in Nelsonville, OH offers both a Forest Management Program and a Timber Harvesting & Tree Care Certificate Program. For more information on either of these programs, contact Lynn Holtzman by email holtzmanl@hocking.edu or by phone at (740) 753-6274.
How Can I Join Hocking College's Forestry Club?
Formed in the 1970s, Hocking College's Forestry Club meets periodically and has participated in activities that have included planting trees, cutting grape vines, harvesting timber, and performing tree care work for fundraising.
For more information about getting involved in Hocking College's Forestry Club, contact James Downs by email at downsj3891@hocking.edu or by phone at (740) 753-6252.